[Tweet] Arsenal confirm Granit Xhaka's surprise new shirt number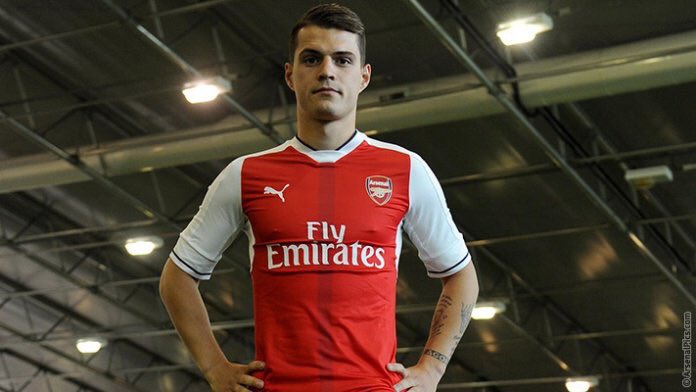 Arsenal have dropped a huge surprise this afternoon after confirming that Granit Xhaka will be wearing the No.16 shirt next season and NOT the NO.34 we were all expecting.
Xhaka sealed his big-money move to the Emirates earlier this week and the club then confirmed on Wednesday that Aaron Ramsey had moved from the No.16 shirt to No.8 – which has been vacated by Mikel Arteta.
Many thought this had opened the door for Francis Coquelin to move to Ramsey's old No.16 shirt, thus allowing Xhaka to take his No.34 shirt. The Switzerland international has always worn the No.34 throughout his career and he's even got it tattooed on his back.
However, in a real shock, the club have now confirmed on Twitter this afternoon that Xhaka will in fact be wearing the No.16 next season for Arsenal.
Perhaps the 23-year-old wasn't that fussed and was willing to just take any number but given that he's always worn 34, has a tattoo and his car seats even have 34 stitched on to them, I'm guessing he's quite fond of that number!
So it looks like Coquelin has refused to give it up. If that's the case, I'd be hugely disappointed in the Frenchman. He hardly has a particular affiliation with 34 so there is no reason he shouldn't have done the right thing and allowed Xhaka to take it.
Perhaps Coquelin is making a statement to our latest signing by saying 'your not having my shirt number of my place in the team'?! Given that Xhaka and Coquelin are vying for the same position, I wouldn't put it past Le Coq to be throwing some sort of gauntlet down.
Either way, let's hope Granit isn't too disheartened as the last thing we want is him already unhappy because of a fricken shirt number!
How many of you will be wearing this next season? https://t.co/gMOsA1QKsa pic.twitter.com/1DFXfjzC87

— Arsenal FC (@Arsenal) May 27, 2016