The king of bling: How Aubameyang spends his money
By
mac14
on February 16, 2021
Footballers are renowned for spending their money on the finer things in life. They earn obscene amounts of money so why not splash the cash on a lavish lifestyle? However, not many do it as well as Arsenal striker Pierre-Emerick Aubameyang.
Ever since joining Borussia Dortmund from Saint-Etienne in 2013, the Gabon international has earned a reputation as the 'King of Bling' due to his love of flash cars, expensive clothes and fine jewellery. When Arsenal agreed a £56m deal to sign Aubameyang in 2018, he turned up to the airport in an Audi R8 supercar and he's certainly lived-up to his reputation since arriving in north London.
Last summer, the 31-year-old agreed a new three-year contract worth £250,000-a-week which could rise to £350,000 once loyalty payments and bonuses are included. After signing the £55m deal, rumours claimed that Aubameyang splashed some serious money on a fleet of new cars, a new house for his family and some expensive jewellery from sites like https://www.fjewellery.co.uk/ so it's safe to say he celebrated in style.
Let's take a closer look at how Auba spends his money and why he earned the name 'King of Bling':
Fleet of supercars
Without question, Aubameyang loves nothing more than spending his hard-earned money on cars. Lots of cars. It's not known exactly how many supercars the striker owns but it's thought he has four Lamborghinis, a Bentley Bentayga, a Porsche Panamera, a Range Rover Sport, an Audi R8, and an Aston Martin DB9 in his collection. Auba also has three stunning Ferrari's – one which is worth £2m.
After penning his new Arsenal contract last summer, Aubameyang posted for a photo at one of his mansions with a fleet of cars that were all custom wrapped in various colours including gold and silver. He certainly knows how to show off his wealth, and nothing screams 'I'm a millionaire' than a gold Lamborghini!
Expensive jewellery
Aubameyang is also renowned for wearing lavish jewellery. The Arsenal star doesn't just use high-street names like https://www.goldsmiths.co.uk/ to buy his items, he mainly calls upon high-end specialists from all around the world to source unique jewellery and create bespoke pieces.
A Hatton Garden jewellers went public last year claiming that Aubameyang was a regular client who purchases watches and pendants worth hundreds of thousands of pounds. The striker was once snapped in Dubai wearing two Cartier bracelets worth around £30,000 each along with a diamond encrusted watch which wouldn't look out of place being sold at the https://www.thediamondstore.co.uk/.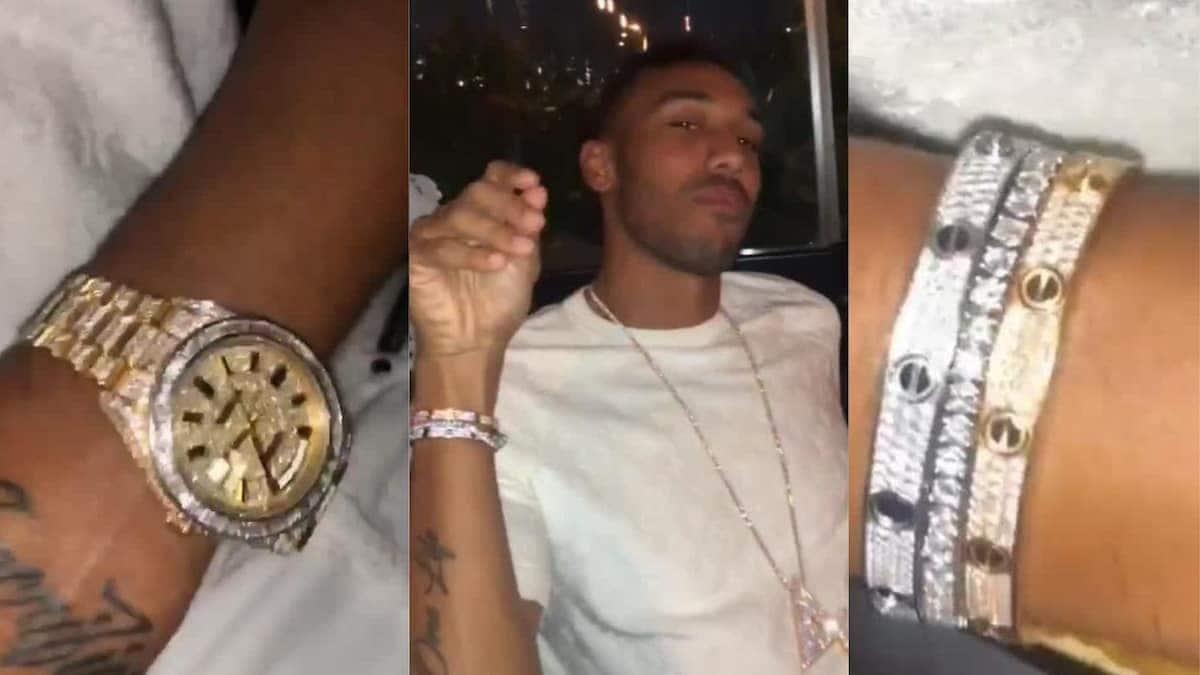 Houses
We all need somewhere to rest our head at the end of a long day, but not everybody can afford the type of houses Aubameyang owns. The player immediately initially rented in north London after joining Arsenal in 2018 but having committed his future to the club last year, Auba has since invested a huge amount of money in a new huge mansion.
The 31-year-old tore down a dilapidated 1930s house in Barnet and replaced it with a stunning seven bedroom home that includes an indoor swimming pool, sauna, fitness suite, wine bar and an underground garage to keep his fleet of supercars safe.
Aubameyang is also believed to have invested some of his wealth in several properties around the globe.