Arsene Wenger could be banned for Arsenal's crucial trip to Chelsea
By
mac14
on January 23, 2017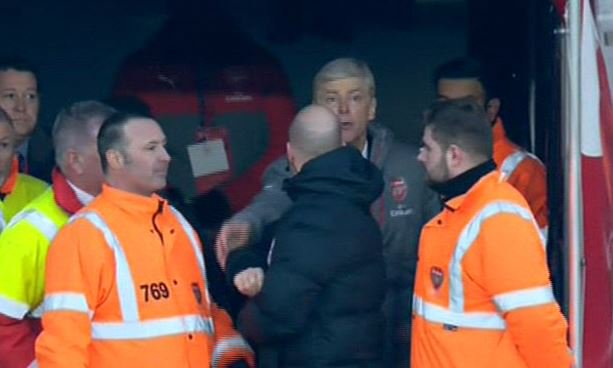 Arsene Wenger is facing a touchline ban following his altercation with fourth official Anthony Taylor yesterday and could even miss Arsenal's crucial clash with Chelsea at Stamford Bridge.
The boss was involved in a bust-up with the fourth official during our dramatic 2-1 win over Burnley on Sunday afternoon after being incensed by referee Jon Moss's decision to award the visitors a stoppage time penalty.
Moss sent Wenger to the stands after he used foul and abusive language towards him but the boss then clashed with Taylor after the fourth official tried to usher him down the tunnel as Arsene watched the final minutes unfold.
Footage shows Wenger shoving Taylor and the boss immediately apologised for his behaviour after the game after telling reporters that he regrets his actions but suggests he shouldn't have been sent off for what he said to the referee.
Wenger is quoted as saying by the Telegraph:
"I didn't know if I was sent to the stands but I was sent out. I thought I could watch it from the corridor. I regret everything. I should have shut up, gone in and gone home. I apologise for that.

"It was nothing bad. I said something that you hear every day in football. Overall, nine times out of ten, you are not sent to the stand for that. If I am, I am, and I should have shut up completely. I had been quite calm the whole game, more than usual but just in the last 2-3 minutes…"
Despite his apology, the Telegraph are one of several newspapers who are reporting that a misconduct charge is almost certain to follow once the FA study the referee's match report and Wenger is facing a touchline ban and heavy fine.
Alan Pardew was involved in a similar incident in 2012 when he pushed an assistant referee and received a two-game ban and £20,000 fine but the FA have since introduced a new 'zero tolerance' approach to touchline behaviour while they are also re-launching their 'respect' campaign.
Given that Jose Mourinho has put pressure on the FA to come down hard on Wenger with his constant moaning about how lenient they've been with the boss in the past, I think Arsene can expect at least a two-game ban but it would be a surprise if he was slapped with three games or even more.
The FA are expected to act soon and if the case is wrapped-up before the weekend then a two-game ban would see Wenger miss our FA Cup fourth round trip to Southampton on Saturday and the visit of Watford next week.
However, any delays in the process until after next weekend or a touchline ban of three games or more would see the boss miss our crucial trip to Stamford Bridge to take on Chelsea on February 4th.
We can just about make-do without the boss for an FA Cup game and a home clash with Watford but it would be a huge blow if Wenger was banned for the Chelsea game.
Arsenal moved in to second spot in the table yesterday and are now Chelsea's closest rivals for the title so the game at the Bridge could prove pivotal in where the trophy ends up this season. Therefore, let's hope Wenger gets away with just a one or two game ban and is back on the touchline to meet Antonio Conte's men next month.
This is Arsène Wenger's home. He stands where he wants. pic.twitter.com/hjcdEHNKV8

—(@WengerTactic) January 23, 2017