Arsenal Table Improved €49.5m Bid For World Class Striker – Report
By
mac14
on July 28, 2015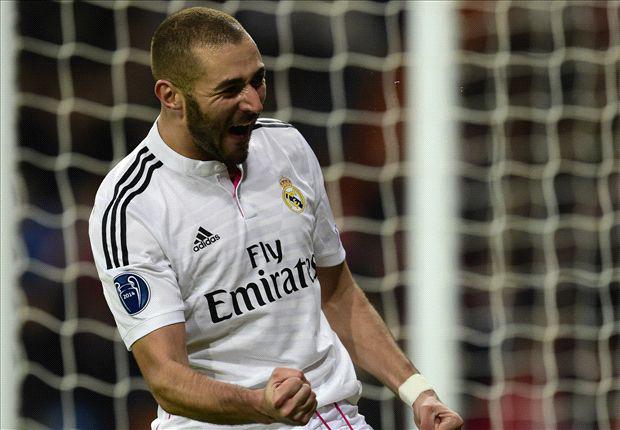 It looks like Arsene Wenger is refusing to give up on Karim Benzema as according to the Express, Arsenal have submitted an improved offer worth €49.5m (£35m) for the Real Madrid hitman.
The boss has been hotly tipped to sign another striker before the window slams shut and AFC director Lord Harris caused a stir last week after telling the Daily Mail that the club are ready to break our transfer record if needed in order to sign the player Arsene really wants.
Most people assumed the player he was talking about was Benzema as he's been widely reported to be Wenger's prime striker target this summer but there has been mixed signals coming out of Madrid over his potential availability.
The Daily Star claimed earlier this month that we'd seen our opening £31m bid rejected and Madrid were thought to have broken off all negotiations for the striker.
However, the Express then reported last week that the Spaniard's were prepared to sell Benzema in order to make room for Marco Reus and the Daily Mail said that Arsene was 'determined' to sign the French international this summer and was 'certain' to table a fresh bid after holding talks with the player on the phone.
It appears that offer has now gone in as the Express claim that we've submitted an improved offer worth €49.5m (£35m) and while Madrid are likely to hold out for at least €56.5m (£40m), the paper suggests that Arsenal are hopeful a deal can be agreed before the start of the new season.
With all the speculation flying about in the worlds media these days it's difficult to know what to believe but I do honestly think Wenger is making a real push to sign Benzema this summer.
He's always been a fan ever since his Lyon days and the boss has said he's prepared to splash the cash if he can find the right player. Benzema is certainly 'the right player' as we'd have a great chance of winning the title with him leading the line.
However, I think the key to any potential deal is Madrid finding a replacement. They've been linked with the likes of Marco Reus and Zlatan Ibrahimovic this summer and if they could sign one of their targets, then it will pave the way for Benzema's move to Arsenal.
I'm not getting too excited just yet as the deal is still a long way off, but what a signing it would be if we could bring in Benzema! A front line of him, Sanchez, Ozil and Walcott would be a match for anybody.