TEAM: Monreal OUT! Arsenal Starting Line-Up To Take On Swansea
By
mac14
on November 7, 2014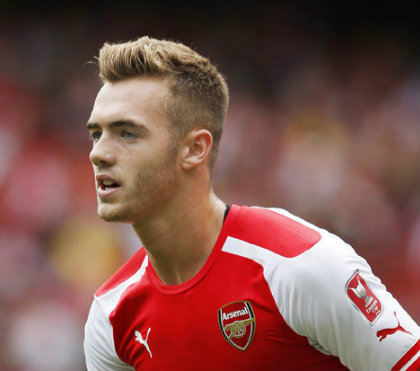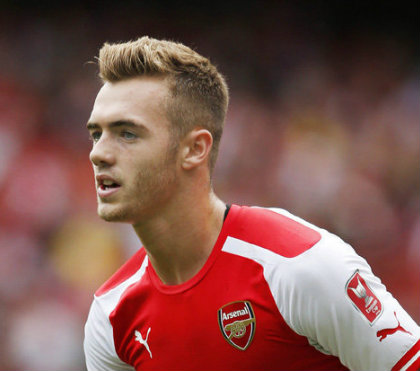 Arsenal get back to Premier League action when we take on Swansea at the Liberty Stadium on Sunday afternoon. I'll look at the team I'd like to see Arsene Wenger put out….
The more I see the third goal on Tuesday night, the more I feel Szczesny was at fault. He miss-read the cross, came out too early and those vital couple of steps meant he was out-of-position and allowed the Mitrovic header to find the back of the net.
However, with David Ospina out injured there is virtually no chance the Pole will be dropped and on the whole, he's been decent this season, so we'll stick by him for now.
The defence was shambolic in midweek and it's safe to say we're desperately missing Koscielny. But with the Frenchman no closer to a return, Arsene has got to find a way to cope.
For me, Monreal in the middle isn't the answer so I'd prefer to see Calum Chambers moved alongside Per and Hector Bellerin come in at right-back. I doubt the boss will do it, as he'll more than likely stick with the same back-four as Tuesday, but I think we'll be more balanced with Bellerin, Per, Chambers and Gibbs as our defence.
Mikel Arteta is out with a hamstring strain and no doubt Arsene will simply bring in Mathieu Flamini, but I personally think the Frenchman offers little these days as he's an extremely limited player so I'd actually go with Ramsey and Wilshere in midfield.
Jack is back after illness and although neither he nor Ramsey are 'holding' midfielders, they can't do any worse than Flamini or Arteta, so why not just play our best players. All it takes is for Wilshere and Ramsey to show some intelligence. When one goes, the other sits, and vice-versa.
Theo Walcott is in the squad but I don't think he's ready to start just yet, so I'd stick with the same front four as Tuesday and give Theo a run-out in the second half.
So this is how I'd line-up: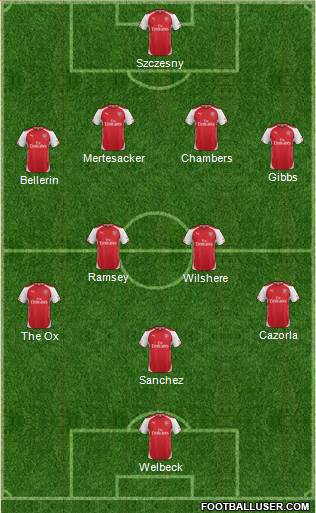 In reality, Arsene will probably just bring Flamini in for Arteta and may swap Wilshere with Ramsey. Either way, let's hope for a much-improved performance at the back and a vital three points heading into the international break.
COYG!!!