Photo Proof: Agent Drops Hint That Sanchez Is Set For Arsenal Move
There was an interesting development in the chase for Alexis Sanchez late last night after the players agent suddenly followed Arsenal and a number of our players on Twitter – which many feel is a major hint the Chilean winger is set to snub interest from Liverpool and move to the Emirates.
Speculation has been intensifying in recent days that we're edging closer to signing the attacker from Barcelona, with reports suggesting we may have agreed a £32m fee while some reports even claim we've already agreed personal terms with the player.
Liverpool are also keen and there was talk the 25-year-old could be included in any deal involving Luis Suarez moving to the Nou Camp, but with Sanchez apparently favouring a move to north London, that idea now appears off the table.
So with the newspapers suggesting we are leading the chase, it was interesting to see the Chilean international's agent, Fernando Felicevich, suddenly follow Arsenal's official Twitter account last night, as well as the accounts for Mikel Arteta, Mesut Ozil, Olivier Giroud and Santi Cazorla.
This is a screenshot from last night, but for those skeptics out there who think it's been photo-shopped, you can check out his agents recent 'following' activity yourself here.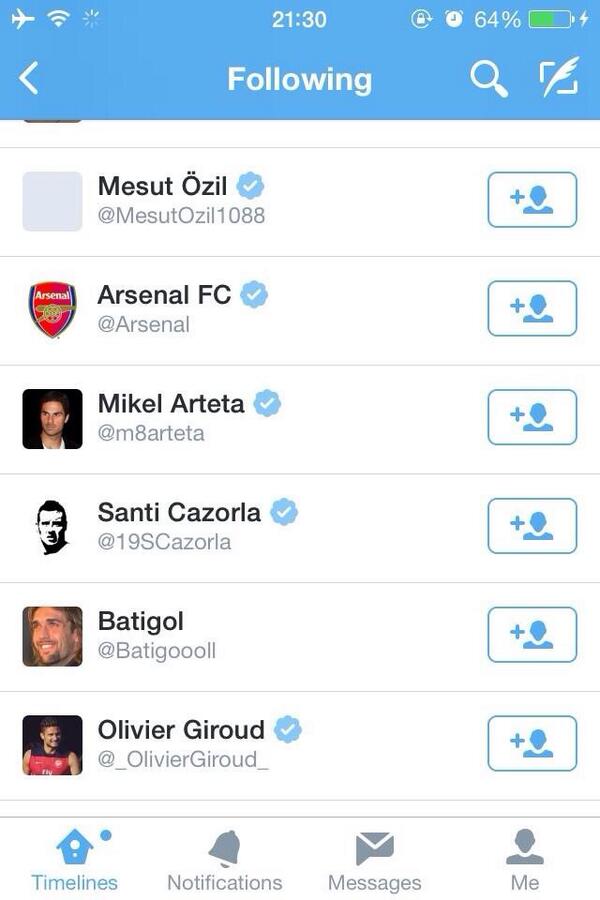 It's difficult to know exactly what this all means, but understandably fans were speculating last night and the general consensus was that this is a major hint Sanchez is coming to Arsenal.
Hopefully that turns out to be the case, as he'd be a sensational signing, but let's see how things develop because Arsenal fans should know better than anyone that things can change quickly in football and a deal isn't done until he's holding the shirt on Arsenal.com.