Wilshere Confirms Higuain Move….On Twitter?!
The internet and social media sites were awash with speculation last night that Jack Wilshere had inadvertently confirmed Gonzalo Higuain's arrival at Arsenal after following the Argentinean on Twitter!
Higuain has been 'one the verge' of completing his protracted move to the Emirates for what feels like forever now. He's 'agreed terms' more times than I care to remember and he's been 'set for a medical' almost as much as Yann M'Vila was last summer, but still we await any official news from Arsenal or Real Madrid.
So you could forgive some Gooners for getting a little over excited when they noticed that young Jack Wilshere had followed Higuain last night on Twitter.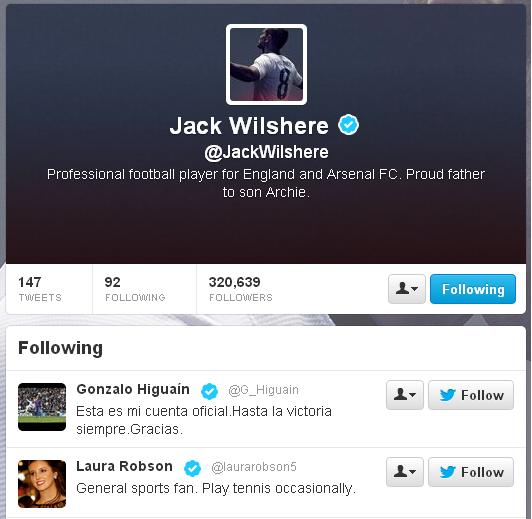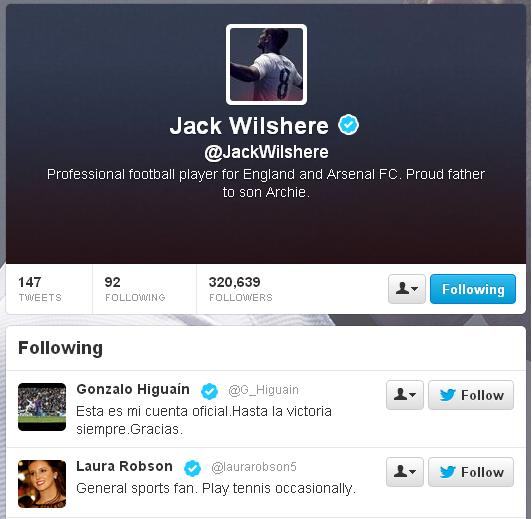 I read comments like "we're definitely buying Higuain, Wilshere just followed him!". Jumping the gun a little but when you're waiting for a record signing to be announced, fans can sometimes look into things wayyyyy to much.
Of course there is a small chance that Jack knows something we don't and prematurely followed his soon-to-be new team-mate, but I still think that's highly unlikely.
Wilshere's 'Twitter-gate' came just hours after ESPN published an interview with him where he was asked about the prospect of Higuain joining the club, and he seemed excited by the idea and had some changing room banter already lined up:
Are you excited about the prospect of Gonzalo Higuain joining the club?

I've never played against him, but anyone who plays for Real Madrid and Argentina has to be quality.

Speaking of quality, have you seen the photo on the Web of Higuain's wife modeling lingerie? I've printed it out just in case you missed it.

[Wilshere's eyes widen and he smiles] That's the sort of picture that will go right up on the bulletin board in the changing room. Some of the lads like to put up photos of other players' wives and girlfriends and have a bit of banter.
The signing of Yaya Sanogo on a free transfer was officially confirmed on Monday, let's hope today's the day we hear something regarding Higuain as I'm not sure how much more of this waiting Arsenal fans can take.