Spurs vs Arsenal Preview: Match Thoughts, Stopping Bale & Preferred Team
By
mac14
on March 1, 2013
The big one has arrived. Arsenal play Tottenham away on Sunday with many suggesting our season comes down to this game. I disagree. While defeat would leave us seven points adrift, I could still see the scum blowing that lead. They have previous, after all.
Sure, a win would blow the race for third wide open and make finishing in the top-four a far easier task, but we're still capable of overhauling Tottenham and/or Chelsea even if we fail to win on Sunday afternoon at White Hart Lane.
Andre Villas-Boas men haven't been playing well and have relied heavily on the brilliance of Gareth Bale to scrap wins recently. The Welshman can't keep sticking it top-banks every week, can he. They loved telling us how we were a one-man team with RVP last season but they don't like it now the shoe is on the other foot, do they?!
But can we stop monkey-boy? I have my doubts. Bale has been drifting inside more and more in recent games to do his damage from central areas, and without a 'proper' defensive midfielder in the team I think we might struggle in that area if the likes of Arteta and Wilshere aren't extremely disciplined.
They HAVE to show Bale onto his right foot. It was infuriating to watch the West Ham players allow him to get a shot off on his left with such ease on Monday. If we do the same, with Szczesny's susceptibility to long shoots, I can smell trouble.
Despite Spurs boasting a four-point lead over us heading into the game, we still hold the bragging rights as we've battered them 5-2 in each of the last two meetings. The Tottenham team collapsed at the Emirates in the reverse fixture earlier in the season and blamed the sending off of Adebayor as the turning point of the game, conveniently forgetting they blew a similar lead in the same fixture last season to lose 5-2 with eleven men.
My preferred team: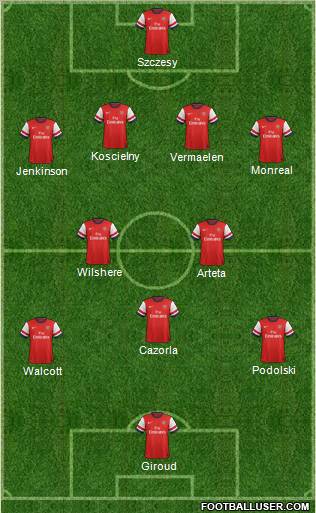 It looks like Jermain Defoe is fit to start so I think it's vital we opt for the mobility of Laurent Koscielny over Per Mertesacker. Carl Jenkinson should slot in for the injured Bacary Sagna and with Abou Diaby likely to be out injured, I'd like to see Jack drop back alongside Arteta with Cazorla in the advanced central role and Podolski recalled on the left.
However, Arsene Wenger may opt to bring in Ramsey for Diaby and keep Cazorla on the left with Wilshere in the 'hole'. Ramsey could do a job in the middle as long as he keeps to his position and KEEPS BALE ON HIS RIGHT FOOT.
No doubt the key to the game is stopping Bale, but we have the best away defensive record in the league so lets keep it tight because Tottenham have become pretty devastating on the break and as Aston Villa showed last weekend, we're not the best at dealing with fast counter-attacks. That's why the central midfielder is so important on Sunday.
I'm not going to predict any scoreline but I can't see us losing the game, and if that's the case I'd make us favourites to take fourth at least, but it's still doable even if we lose.
COYG!
What are your thought on the Spurs game? What would be your team?