Nagelsmann opens door for Arteta to use Havertz in new role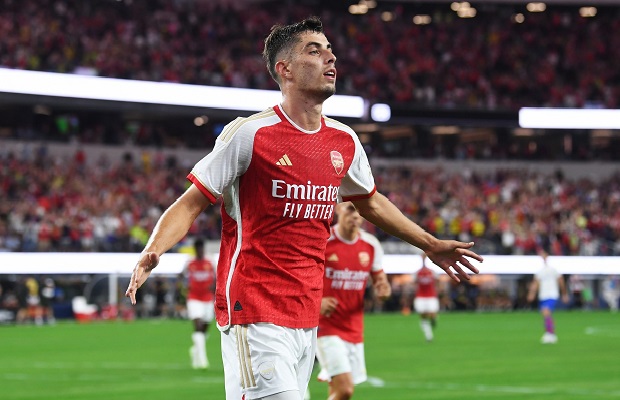 Germany manager Julian Nagelsmann recently deployed Kai Havertz in the left-back position in a friendly fixture versus Turkey and the former Bayern Munich boss has hinted that this could become a permanent position for the 24-year-old in the national team.
Having displayed prolific performances during his time at Bayer Leverkusen, the midfielder struggled to showcase productivity over the last few years for Chelsea after joining the Blues back in 2020.
Havertz has continued to struggle with the same issue at the Emirates Stadium in recent times having signed for Arsenal at the beginning of this season. The German has seemingly looked like he is lacking the confidence and composure to play the final ball or finish off his chances.
After seeing Havertz's recent troubles, his international boss, Nagelsmann recently decided to push him back and use him in the left-back position versus Turkey. The midfielder managed to put his name on the scoresheet in that encounter, though Germany eventually lost the game 3-2 to Turkey.
Now, speaking on Sky Germany(via Fabrizio Romano), Nagelsmann has said that Havertz did really well in his first game in a new role and the 24-year-old was open to playing in the left-back position.
Havertz in left-back
The manager also hints that he is planning to use Havertz in the left-back position going forward and the midfielder could be used in that role in next year's European Championship.
When asked to give his verdict about Havertz being deployed in the left-back position, Nagelsmann said:
"I don't see this as a risk for him, but as a very, very big opportunity to play a key role at the Euros. Kai said he wanted to do it, wanted to try it — for a first time in an unfamiliar position, he did extremely well."
If Nagelsmann deploys Havertz in the left-back position going forward, then it remains to be seen whether Mikel Arteta opts to try the same at Arsenal. The Gunners lack an out-and-out option to support Oleksandr Zinchenko, although Takehiro Tomiyasu has been used in that position, he isn't a similar style of player to the Ukrainian.
So, Arteta could use Havertz as the inverted fullback to support Zinchenko. He is quick, technically sound, comfortable with the ball at his feet and can play threading passes between the lines.
Therefore, he could play a similar role to the former Manchester City star at the Emirates Stadium. However, it is going to be interesting to see whether Arteta eventually opts to do that in the upcoming games.