Ramsdale's dad slams Arteta for dropping his son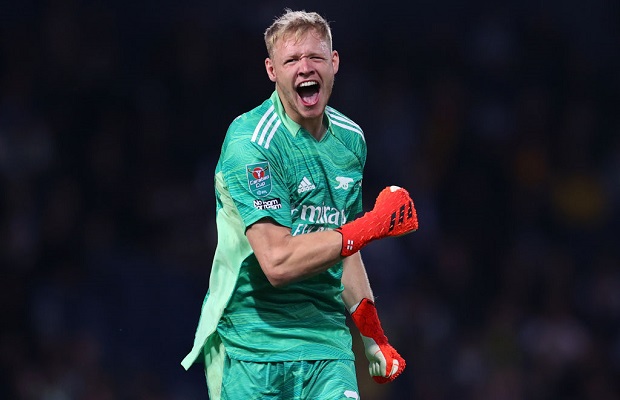 Arsenal star Aaron Ramsdale's father has slammed Mikel Arteta for dropping his son without giving a fair explanation.
The Englishman was the Gunners' number-one goalkeeper over the last couple of years. He played a key role in helping Arteta's side finish second in the league last term and qualify for the Champions League for the first time in seven years this season.
Ramsdale also started in goal for Arsenal during the first few games of this campaign and he even showcased promising performances for the North London club.
However, Arteta eventually decided to hand David Raya – who joined the club from Brentford last summer – the first-team spot, dropping the former Bournemouth star.
Now, speaking on the Highbury Corner Podcast, the goalkeeper's father, Nick Ramsdale has said that Ramsdale has lost his smile after finding himself on the periphery at the Emirates Stadium in recent times.
Nick further states that it's a bit unfair of Arteta to drop Ramsdale without telling him the real reason behind this decision. So, the 25-year-old will now have to accept the fact that he is now the second fiddle to Raya.
Ramsdale's dad slams Arteta
Nick said:
"It is difficult. It really is difficult to see him there and we all keep saying 'you need to keep smiling'. It's possibly the way it's been done. Not knowing the reason why, and this is me because we don't know why. Again, Aaron is working as hard as he can. He's trying to do his best for the squad. He's upbeat and he'll do everything for Arsenal to try to win the league.

"It is me talking personally. I'm probably saying too much but Aaron is going to be the cup goalkeeper, and David Raya is going to be the main man unless something happens, an injury or a sending-off. Aaron's got to live with that and he is living with that even though he's not been told it. By anybody."
It was apparent that Arteta wasn't completely pleased with Ramsdale's displays last season when he opted to sign Raya – who was one of the best goalkeepers in the Premier League last term.
So, it is going to be interesting to see whether Ramsdale decides to continue at the Emirates Stadium beyond this season if his situation doesn't change over the coming months.