Arsenal star Nketiah slammed for lack of offside awareness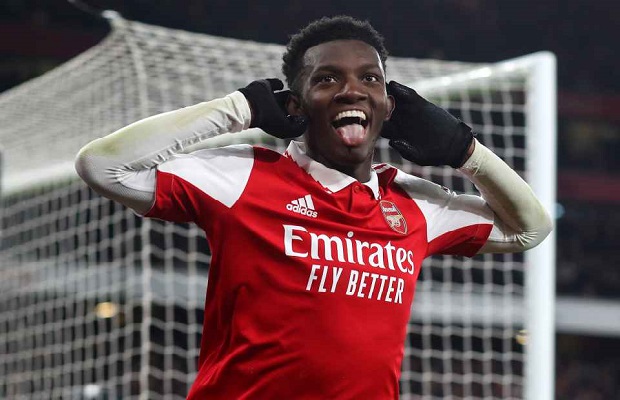 Former attacker turned pundit Alan Brazil has slammed Arsenal star Eddie Nketiah for his lack of offside awareness.
After coming through the Hale End academy, the 24-year-old has established himself as a key part of Mikel Arteta's first-team squad in recent times.
It was initially thought that he would be used as a backup to Gabriel Jesus. But the Brazilian's recent injury issues have handed the Englishman the opportunity to play regularly at the Emirates Stadium.
However, it seems Brazil hasn't been impressed by the 24-year-old's recent displays as speaking on talkSPORT, the pundit has claimed that the Gunners star is lazy and always finds himself in the offside position.
Brazil said:
"I want Eddie to do really well. I think he is a bit lazy. Sorry, he is lazy. He is always offside, he is always offside. He doesn't look across the line."
Pundit slams Nketiah
Nketiah is certainly not a lazy player as his work-rate off the ball is tremendous – which helps the Gunners press the opposition higher up the field.
It is not unnatural for a youngster to have a lack of offside awareness and he is expected to improve on that as he will gain experience.
The Englishman has showcased glimpses of his talent for Arsenal in recent times but there is a question mark whether he possesses the qualities to help the North London club achieve their lofty ambitions going forward.
Nketiah – valued at around £26m by Transfermarkt – hasn't been prolific enough to suggest that he can help Arsenal win big prizes going forward. So, it seems the Gunners have already started to explore the market to sign an established striker.
Therefore, The Englishman's time might be running out at the Emirates Stadium. If he can't improve drastically in the coming times then he may come under the chopping block.
It has been suggested that Arsenal need to raise funds to sign Ivan Toney – who has been mentioned as Arteta's primary target to reinforce the frontline.
So, I think Arsenal could opt to sell Nketiah to raise funds as it is highly unlikely that the Gunners will keep three strikers in their squad if they purchase Toney. Therefore, it is going to be interesting to see what the future holds for Nketiah over the coming months.