5 reasons why Declan Rice will end up at Arsenal, not Man City
By
mac14
on June 23, 2023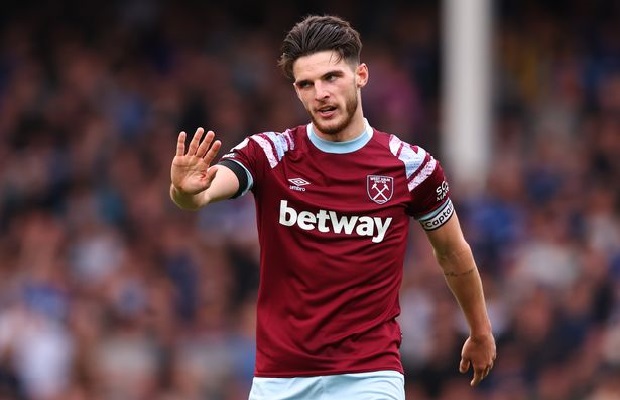 Declan Rice is one of the most in-demand players of the summer transfer window. The West Ham skipper has made it clear to the clubs hierarchy that he wants to leave to take the next step in his career and a host of top European clubs have expressed an interest.
It's not surprising given Rice has developed into one of the best all-round central midfielders in Europe since coming through the West Ham youth system to become a first team regular in 2017. The 24-year-old is now a vital part of David Moyes' starting eleven at the London Stadium and led the Hammers to the Europa Conference League trophy last season. He's also an integral part of Gareth Southgate's England team, so he's established himself in the Premier League, in Europe and on the international stage.
When word got out that Rice wanted to leave this summer, several clubs were credited with an interest including Chelsea, Manchester United, Manchester City, Arsenal, Liverpool and even Bayern Munich. With so many teams vying for his signature, West Ham slapped a £120m price-tag on the midfielders head.
However, it soon became apparent that Rice favoured a move to Arsenal and the valuation soon dropped to 'at least £100m'. Arsenal have seen two bids – the latest worth £75m plus £15m in add-ons – rejected by West Ham. It seemed only a matter of time before we would seal a deal, and those with Arsenal tickets were confident Rice was coming to the Emirates Stadium.
However, reports now claim that Man City are ready to show their hand by submitting an opening offer. There are rumours that United are also lining-up an offer, but it's the interest from City that's really got Arsenal fans spooked.
The Gunners faithful have gone into full-on meltdown mode following the news of City's impending bid, as most assume they'll blow us out the water and Rice will opt to link-up with Pep Guardiola at the Etihad Stadium. However, I think there are some vital reasons why Arsenal remain firmly in the driving seat to sign Rice this summer:
1.He wants to stay in London
The main reason, and perhaps the most important reason, why Arsenal are still expected to sign Rice is that he's made it clear he wants to remain in London. The 24-year-old has recently had a child with his partner and wants to bring it up in the capital near his family and friends. Rice has always lived in London having come through the Chelsea youth system before joining West Ham. He's a London lad and doesn't want to move up north to Manchester.
2. Rice wants to join Arsenal
Rice wants to stay in London, and he has no desire to return to Chelsea having been badly treated as a kid. They didn't think he was good enough and cast him aside as a teenager. Chelsea are also in disarray right now and Rice wants to join a stable club. Tottenham can't compete for this type of signing, so Arsenal are the clear front-runners of the big London clubs.
3. Arteta factor
Mikel Arteta has made huge effort to lure Rice to the Emirates Stadium. The Spaniard has reportedly personally met with the player on at least two occasions to outline his vision for how he'll integrate him into the team. Arteta is a meticulous operator and will have gone into extreme detail about how he plans to use Rice, where he'll fit in and expressed his belief that the 24-year-old can one day be captain of Arsenal Football Club.
Arteta will have made it abundantly clear that he desperately wants Rice and plans to have him as a focal point of his team. This personal touch will have been incredibly powerful. Players need to know they'll be playing for a manager that really wants them, and they are his first choice target. They need to feel the love. And Arteta has certainly done everything he could to persuade Rice Arsenal is the right move for him.
4. First choice
At Arsenal, Rice is a guaranteed starter and he'll be one of the first names on the team sheet. Thomas Partey is expected to leave after an indifferent season with Juventus leading the race to sign him. Partey's injury problems since joining Arsenal have made him unreliable, and his form dropped dramatically towards the end of the season which cost us. Granit Xhaka is also set to depart with a £13m move to Bayer Leverkusen in the pipeline.
It means Arteta needs replacements and Rice is Arsenal's No.1 target. The Englishman knows he'll be a regular starter at the Emirates and Arteta will have made this clear during their talks. As an established international, Rice knows the importance of playing week-in, week-out for your club so he won't want to take any risks with his starting spot.
At City on the other hand, Rice will face fierce competition for a starting berth in Guardiola's side. Rodri is a nailed on starter for the treble winners. He was virtually ever present in the holding role last season and there is no chance Guardiola drops him for Rice. John Stones was also exceptional in a central midfield role last season while Mateo Kovacic is about to join from Chelsea, so Rice has a number of central midfielders to compete with.
He'll also know full well about Kalvin Phillips' troubles since joining City. His international team mate joined the Cityzens in a £50m deal last summer and was expected to push on to become a top class midfielder. However, Phillips has been frozen out and barely got a kick last season. He only made his full league debut in mid-May after City had wrapped-up the title. Phillips' disastrous start to life at the Etihad Stadium will not have gone unnoticed in the Rice camp.
5. West Ham leaking City interest
Everyone knows Rice favours a move to Arsenal, but West Ham needed a bidding war to drive the price up. It's no coincidence that word of an impending City bid came at the same time that Arsenal were preparing their latest offer. West Ham are obviously leaking information to the press to try and force Arsenal to increase their offer in fear that City will blow us out the water.
That's not to say City aren't interested, but it's in West Ham's interest to let the world know that City are keen. Even if Rice has made it clear to the Hammers he only wants to join Arsenal, West Ham will still leak information to the media to try and push the price up.
So as much as it's concerning to hear that Man City are in for Rice, I still think there are plenty of reasons to be confident as an Arsenal fan. No doubt there will be more developments over the coming days, let's hope this saga gets resolved soon.