Arteta taught a lesson by former boss Guardiola
By
mac14
on March 1, 2023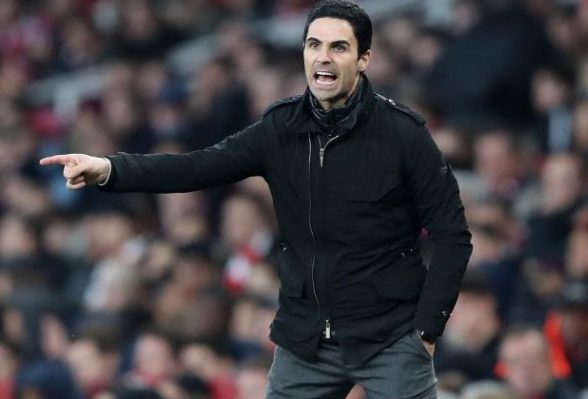 Manchester City displayed their endurance for the task at hand with a 3-1 triumph at Emirates Stadium on Wednesday night, secured not as a result of a great disparity in class but by maturity in execution when the pressure was at its most. The Gunners just need to handle these occasions better in the coming weeks or their championship challenge will fade.
They should be encouraged by their ability to challenge their more illustrious rivals, but the tiny margins in temperament here demonstrated why one of these clubs is chasing a sixth title in six years and the other is on a 19-year wait. These are the biggest stakes Arsenal has ever played at. They must find the strength to continue doing all that has brought them to this point, and doubts about their ability to do so will become louder now.
Arsenal had only lost seven points after 19 games this season. They have now lost eight since then, including a defeat at Everton, a home draw with Brentford, and a loss to City.
In all three cases, there were mitigating factors: The new manager bounce Sean Dyche provided at Goodison Park, the formal apology that came after a VAR error allowed Brentford's equaliser to stand, and Thomas Partey's muscle injury robbing them of their key midfielder hours before kick-off against City, who could have been down to 10 men after Ederson fouled Eddie Nketiah in the box while already on a yellow card.
Yet, these are the punches that title-winning clubs must roll with, and Arsenal winced as they took the strikes City dealt. They have a game in hand, but City's rise to the top of the Premier League for the first time since November 5 is a crushing blow.  Arsenal will need the backing of every single one of their fans if they are to dethrone Pep Guardiola's Manchester City.  Get your Arsenal tickets from Seatsnet and show your support for the team.
Arteta's inexperience proved costly
The choice to start Tomiyasu was influenced in part by a desire for history to repeat itself. In October, Arteta introduced Tomiyasu to mark Mohamed Salah against Liverpool. It was a brilliant move. That was a bad judgement in Manchester City's case. Arteta may also reflect on his decision of sticking with Gabriel Martinelli after another lacklustre performance, allowing Leandro Trossard only 14 minutes to make an impact as a substitute.
Moreover, just as defensive errors hurt their capacity to compete, Arsenal were wasteful in front of goal; Nketiah has never been scrutinised like he will be when leading the line in a title-contending side, and two terrible missed were expensive in that context.
Arteta has been the driving force behind Arsenal's recent success, but it appeared that both his inexperience and that of his squad were against Guardiola, who has now orchestrated 11 straight league victory over Arsenal.
Guardiola added a heartfelt note about the championship fight to his regular admiration for his buddy and former assistant Arteta. "They've [played] one less game, therefore I think they're top of the league," Guardiola remarked.
The city has a reputation for peaking at the proper time. Their medals attest to this. Arsenal must continue on the same upward trajectory.
Arsenal have been the hunted, now they are the hunters
Arsenal has led the Premier League for so long that not seeing them at the top of the standings seems weird. It's a position they've held after each round of matches since beating Bournemouth 3-0 on the third weekend of the season in August.
Yet, the narrative has been turned on its head, and it will be intriguing to see how Arteta and his players respond. Arsenal has long been the hunted, but now they are the hunters. How they handle this new challenge will be critical to their title hopes. Claims that they've "bottled it" are, of course, ridiculous. Arteta's youthful team has done extremely well to get itself into this position, and don't forget they still have a game in hand over City.
There is still plenty of football to be played, but Arsenal have definitely reached their first serious stumbling block, and it's critical that Arteta finds a way to restore his team's belief following their winless streak of eight points from 18. They can't afford to let that run continue because City will be gone in an instant.
Changes are needed
It has been felt for some time that Arteta has to make some adjustments to his team selection.
Gabriel Martinelli is a perfect example of a player who had been playing so well this season but has begun to suffer.  The Brazilian has not scored a goal in 2023 and has had little positive influence in recent games. Starting Leandro Trossard seems likely and might perhaps inject new life into an Arsenal offense that has lacked cutting edge in recent weeks.
There has been some indications that Kieran Tierney may be effective at left-back, a move that could allow Oleksandr Zinchenko to shift into midfield and provide Granit Xhaka with a respite.
Since returning from the World Cup, Arteta has selected the same starting lineup for every league game, with the exception of Man City game when Jorginho had to replace the injured Thomas Partey. Hence, it comes as no surprise that a number of his players seem jaded.
Arteta does not have a particularly large squad, but he does have individuals that might potentially make an impact. This seems like the time for him to give them the chance they've been waiting for.
Partey's fitness will be crucial
Apart from the current string of dismal outcomes, the primary concern at this point is over Thomas Partey's level of fitness. The loss of the midfielder in the lead-up to the game against Manchester City was a devastating blow, and there is no question that he was missed, despite the fact that Jorginho was able to come in and play well.
It is really essential that Arsenal find a way to get Partey back as soon as they possibly can since his presence is so important to their style of play, both in terms of his capacity to shield the defence and rapidly advance the ball forwards.
However, we've seen  Partey sidelined for weeks in the past due to thigh issues, and if that's the case this time around, then Arsenal will struggle to replace him. The initial signs suggest that the muscle injury is nothing serious, but we've seen him sidelined for weeks due to thigh issues in the past.
Jesus still matters
Gabriel Jesus might perhaps make his way back for Arsenal in the not-too-distant future, and the return of the Brazilian forwards is something that the Gunners are eagerly anticipating. Eddie Nketiah has performed admirably in the absence of Jesus, but the 23-year-old has struggled in recent weeks and squandered a number of significant opportunities when playing against Manchester City.
While Jesus was by no means a goal-machine before he suffered a knee injury, his work rate and deft movement were essential to Arsenal's offence and were responsible for creating space for other players. Nketiah could use someone stepping in and taking some of the load off of him for a while, since Arsenal's frontline is in desperate need of that type of creative playmaking.
Jesus is now back to training with the ball at his feet, and he has begun doing sprints on the training grounds at London Colney. But, he has not yet begun his full return to training, and one of Arsenal's primary concerns at the moment should be making sure that this happens as quickly as possible.
If Arteta's team can maintain their position near the top of the table until Jesus is back to full strength, then they still have a fantastic opportunity to go on and accomplish something truly remarkable during this campaign.
Arsenal has been dealt a heavy blow as a result of the events that have occurred over the past two weeks; nevertheless, there is no reason for them to freak out, and Arteta has to make sure that his players understand this. There is still a long way to go in this season, and Arteta made the point that it is a marathon, not a sprint, in the immediate aftermath of loss at the Emirates. There is still a long way to go in this season.