Get to know our new recruit Jorginho
By
mac14
on February 20, 2023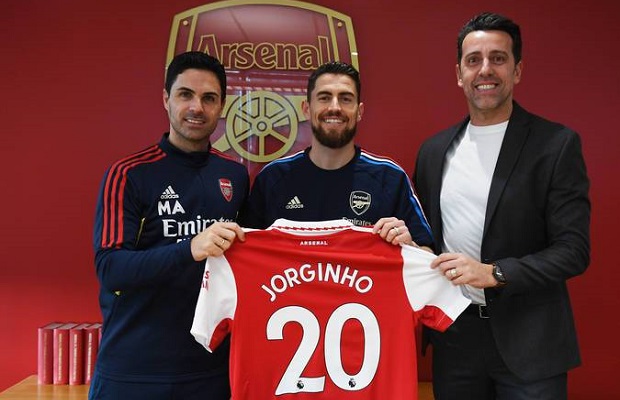 After Deadline Day on January 31st, we have a new midfielder on the team. The former Chelsea midfielder Jorginho. We've gathered three facts about our new recruit so you can get to know him a bit better.
There will be many Arsenal fans who are already quite familiar with Jorge Luiz Frello Filho, better known as Jorginho – our new recruit. He's been playing a massive role in the Premier League since 2018 when he's been playing for Chelsea. But on Deadline Day, the talented Italian transferred, and from now on will be playing at Emirates Stadium.
It's going to be an exciting new season where we get to see what the midfielder will bring to the table. It's an obvious time to be betting on some of the matches where the bookies haven't been able to analyze the match completely beforehand. If you're an Arsenal bettor, you can always find odds at betting.com. If you want to get ahead of the game by knowing our new recruit a bit better, you can check out these three things you might not know.
1. He's Italian and Brazilian
The 31-year-old Italian midfielder was actually born in Brazil. He lived there until the age of 15. He's of Italian descent, so when his professional football career took him to Verona, the move was an easy choice. He says that moving to Italy was easy because this was the place where his professional football dreams would be able to come true.
2. He's a top scorer
Jorginho is exceptionally talented at getting the ball in the net at spot-kicks. In his career so far, he's netted 41 out of 48. He became the top scorer for Chelsea in the 2020/21 season. He has a unique technique that he uses for his spot-kicks. One he learned in his time at Napoli.
3. His idol is Hagi
One of the biggest football idols for Jorginho is the icon of a football player, Romanian Gheorghe Hagi. His fascination with Hagi was actually also what gave him his name Jorginho, because his childhood friends called him Haginho, and the name developed from there. As a young aspiring footballer, Jorghinho also looked to players like Kaka, Ronaldinho, and Ronaldo. Later on, he was also very inspired by the midfielder Xavi and Andrea Pirlo. These idols have a huge impact on making him the player that he is today.