Can Arsenal go all the way in the Premier League title race?
By
mac14
on November 24, 2022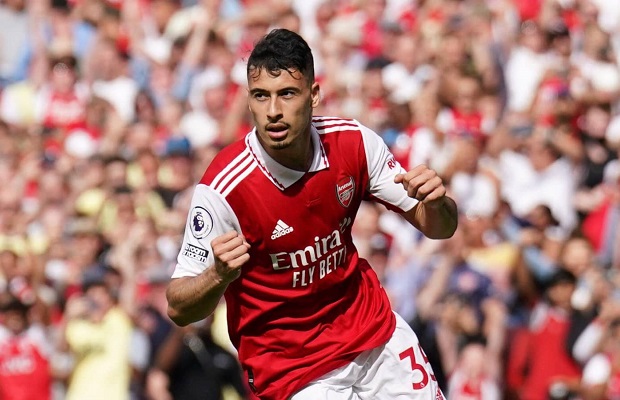 The 2022/23 season is a peculiar campaign for several reasons and the main highlight to buttress that point is the World Cup being held in the middle East for the first time as well as during the winter period, compared to the standard June-July period as we normally know like in past editions.
While the World Cup has already served its fair share of upsets, using analysis from Overlyzer, we could be in line for another major upset in the Premier League.
After a busy summer window, many expected Arsenal to build on their laurels from last season but what no one expected is for the Gunners to be five points clear at the top of the table after 14 games played.
Key names like Gabriel Jesus, William Saliba, Bukayo Saka, Thomas Partey and Gabriel Martinelli, to mention a few, have been standout under Mikel Arteta. In retrospect though, every single Arsenal player has raised his game to another level this term.
It is the first time in over two decades that Arsenal find themselves in this position at this stage of the season and there are question marks over the Gunners and their ability to maintain their current spot.
The jury remains out on Mikel Arteta's men and even pundits continue to doubt whether they can sustain a genuine title challenge. With all of the above in mind, we take a look at Arsenal's chances of winning the league and what can play well to their advantage if they are to go all the way in the Premier League title race.
What should happen for Arsenal to win the League?
In plain terms, more of the same should follow suit and Arsenal might just stun fans and neutrals to go all the way. The Gunners boast a five-point lead at the top of the table and why we cannot deny their brilliance, it must be said that this season has played well into their hands as well.
Liverpool and Chelsea are going through rough patches of their own while the duo of Manchester United and Tottenham have blown hot and cold. Even reigning champions Manchester City have already lost twice, inclusive of their shock defeat to Brentford in their final game just before the international break.
While their rivals seem to be struggling for form and consistency, Arsenal have made the most of those slip-ups, such that a 3-1 defeat is their only blip in the Premier League this season. In previous seasons as well, the Gunners rarely ever take points off top-six sides but they have already claimed victories over Tottenham, Liverpool and Chelsea in the current campaign.
The fact that Arsenal also have the youngest age average (23.7) means the squad is young, hungry and eager to make history of their own.
To cap it all off, 11 goals conceded after 14 games played means Mikel Arteta's men share the best defensive record in the league so far, alongside Newcastle. If they can keep things the same way, it could well become a case of who can stop them in their tracks?
What should improve?
To be fair, Arsenal are showing consistency and mentality like we have not seen in ages and it's hard to point at what needs to improve, considering they are at the very top and also comfortable while at it.
However, it is quite evident that Arsenal need quality depth or they could find themselves few injuries away from a title meltdown.
Players like Thomas Partey and Bukayo Saka do not have quality replacements in their positions and injury to any of these players could be detrimental. Gabriel Jesus is also yet to find the back of the net in his last 10 games. Though he continues to contribute with his workrate upfront, another quality forward could have covered ground for the Brazilian in that period.
The games will come thick and fast, especially with the congestion that we will witness after the World Cup.
Arsenal are rumored to be in search of a midfielder and a forward for the January window and there could be substance to the latter claim.
Shakhtar Donetsk winger Mykhalio Mudryk has been strongly linked with a move to the Gunners and the player recently confessed his love for the Premier League side.
"Yeah, I check on them (Arsenal) on MyScore and know when they're playing, I can check on them," Mudryk recently said.
"I also watch them too. A very dynamic side, in general not just in controlling possession but also in scoring goals.
"The team's style of play will play a role (in transfer decision). It's very important to me."
What are Arsenal's chances of winning the Premier League?
As per Bet365, as at the time of writing, Arsenal have odds of 3.25 to win the Premier League and that is a major boost from 51.00 as at the start of the season.
The fact that everyone still see Manchester City as the huge favourites to win could also be an advantage for the Gunners and all eyes will be on Mikel Arteta and whether he can get one over his mentor and lead his young side to a praiseworthy feat come May.