Most popular betting sports in the UK
By
mac14
on July 28, 2020
Sports betting is on the rise, especially with the growth of online and mobile betting sites. The betting sites allow players to engage in betting right from the comfort of their homes. Sites such as Betiton have been able to provide a sportsbook through multiple devices enabling players to enjoy betting on sports right from their home using any device that they have.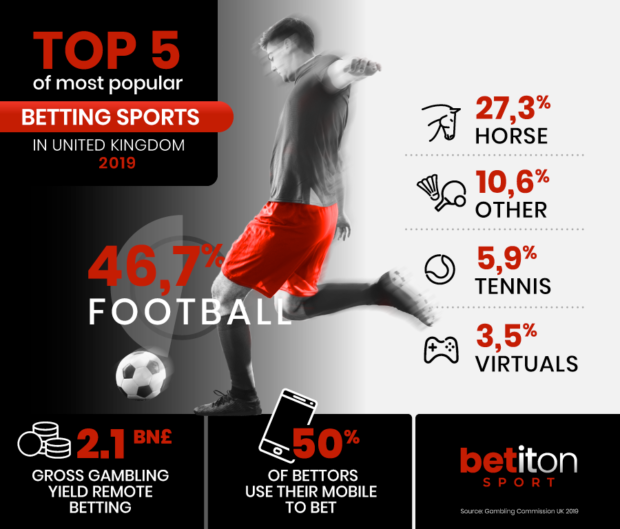 There are many sport betting options for players, and the numbers show what the players prefer most and which sport betting options are most popular in the UK. The Bookmaker Betiton provides many betting sports, but the players mostly prefer the following;
Football
The Premier League is the best in Europe, and it has millions of global fans. Many people in the UK love football and spend time traveling and getting tickets to support their favorite teams. Among football fans, some players like to engage in sports betting. The players participate in predicting the outcome of games.
The players may look for the team's statistics. For example, if the player wants to bet on a game in which Arsenal is playing, the player will look at Arsenal statistics and then makes an informed decision on how to place the bet. The many football fans in the UK and the many games that happen in the English League have led to football development as the most popular betting sport.
Horse Racing
Horse racing is a popular sport among players, and it has been so for many centuries. Horse racing market is slipping as in recent years there has been a rise in the market for other sports such as tennis and football.
Many horse racing events attract players such as Grand National, Epsom Derby, Royal Ascot, and Glorious Goodwood. The games have seen players engage in horse racing, and these days with the rise of websites, players do not need to be experts to play Horse racing betting sport.
Tennis
Tennis is another popular betting sport in the UK. The most popular events involving tennis are Wimbledon, US Open, French Open, and Australian Open. These events have led to a rise in the number of players participating in tennis betting.
Live betting has significantly increased the number of players betting on tennis as they can bet on sets as they watch matches live. High-profile players such as Serena Williams and Novak Djokovic have led to an increase in tennis popularity as a betting sport.
Other sports
There are other sports excluding the above that have fans in the UK. Players tend to bet on games that they love, so you will find that sports like golf, cricket, and rugby are on gambling sites. Some people bet on the sports since they are die-hard fans. Events such as Rugby World Cup and Cricket World Cup tend to spike interest even of casual observers.
Lastly, there many players in the UK who bet on the sports they love, and different brands enable players to play from the comfort of their home, and it has led to a further increase in sports betting.