4 of the best football related games to play
By
mac14
on November 12, 2019
Football is one of the most popular sports in the world with millions tuning-in to watch their favourite team every weekend. With such a huge global fan-base, it's no surprise we've seen a rise in football-related games over the past few years.
Supporters want to simulate the experience of being a real-life footballer or manager on devices such as PCs, mobile or gaming consoles and developers have created some fantastic games for you to enjoy.
Here are four of the best football games:
FIFA
FIFA is the undoubted king of football games. Creators EA Sports have come up with a terrific product that has amassed a cult-like following all over the world with millions of loyal users buying the latest version every year.
The superb graphics make for a true life-like experience as players battle it out in one-off games or tournaments with their friends and you can connect to the internet to play people all over the globe. Users can also simulate being a manger by taking charge of their own club in career mode. There are also other versions such as FIFA Street and FIFA Ultimate Team which are all available to play on Xbox, PC, Play Station or Nintendo Switch.
Football Manager
If FIFA is the top dog when it comes to simulating playing football, then Football Manager is the king when simulating real-life football management. Prominently a PC-based game, Football Manager gives users a true life experience of what it's like to manage a football club. You can take charge of Arsenal and pit yourself against the best in the business, buying Galatico's for hundreds of millions of pounds and winning endless trebles. Or you can choose to take Accrington Stanley from the conference to the Champions League. Become your very own Pep Guardiola in this addictive football management game.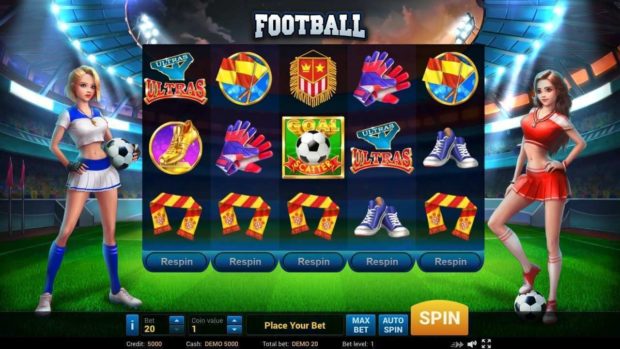 Football Slot
Football fans can also get a taste of the action by playing online games such as Football Slot, which is an exciting gaming slot with a football theme. Gambling and football go hand-in-hand these days and GambleGuys feel Football Slot is one of the best online slots in the business thanks to it's bonus rounds and features. You can win the European Cup by activating the Free Spins feature or become a player to win coin prizes in the bonus rounds.
Pro Evolution Soccer
FIFA's main competition is PES with the two gaming giants battling it out over the years. You are either in the FIFA camp or PES camp! FIFA is widely considered to be the best, however, PES gives it a run for it's money with many users feeling it has a superior in-game experience. For example, PES is more realistic when it comes to tackling and winning headers while it's not as easy to score when compared to FIFA. The graphics aren't quite as good but PES is still a must have for many football lovers.