Where do Lacazette and Aubameyang Rank in The Premier League's Striker Partnerships?
By
mac14
on September 9, 2019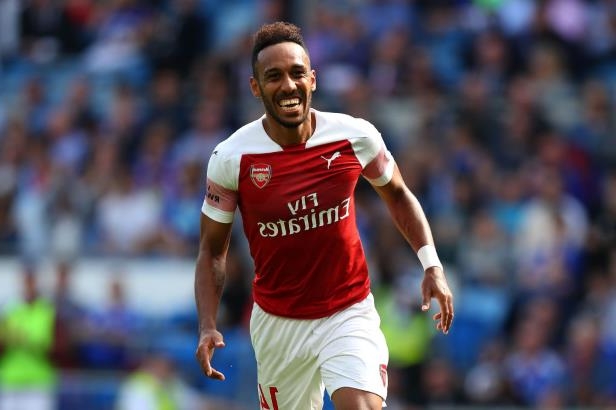 Arsenal are planning to reward Alexandre Lacazette and Pierre-Emerick Aubameyang with lucrative new contracts after they both made a blistering start to the new season. Aubameyang has already banged in three goals in four games to cement his status as one of the world's deadliest strikers. Lacazette missed the curtain raiser at Newcastle with an injury, but he has now scored in Arsenal's last two matches and he has dazzled with his link-up play and sharpness.
The chemistry between them on and off the pitch is a joy to behold, and it seems to improve with each passing week. Arsenal may leak goals, but they always look dangerous going forward thanks to their world-class strike partnership. Aubameyang is out of contact in 2021 and Lacazette's deal expires the following year, so Arsenal are likely to pull out all the stops in order to tie them down for a longer stay in north London.
Rumours abounded in the summer that both men had signed new contracts, but they were wide of the mark. Yet the club's hierarchy know that Lacazette and Aubameyang are their greatest assets, so they should be desperate to keep hold of them. Their stock keeps rising with each passing week and it begs the question: where do Lacazette and Aubameyang rank among the Premier League's best strike partnerships at the moment?
The Modern Game
It is worth qualifying that question by highlighting the fact that very few teams play with a traditional strike partnership these days. The prevailing formation of yesteryear was 4-4-2 and Arsenal were blessed with some truly sensational partnerships, from Cliff Bastin and Ted Drake to Thierry Henry and Dennis Bergkamp. However, 4-4-2 gave way to 4-3-3, and many teams now prefer a 4-2-3-1 or some sort of variation on that.
You generally see one man up top, operating as a central striker and flanked by two wide men that cut in and wreak havoc. Liverpool offer the perfect example of this, as Roberto Firmino leads the line and pulls the strings with aplomb, while Mohamed Salah and Sadio Mané use their pace to make darting runs across the line. The days of a Yorke-and-Cole double act are long gone, as playing two up top leaves teams light in midfield.
Arsenal are no different. When Lacazette and Aubameyang both start, Aubameyang has to be shunted out to the wing to allow Lacazette to lead the line. They essentially form an attacking triumvirate along with Nicolas Pepe, in a similar vein to Liverpool's three-pronged attack. You often see Lacazette taken off and then Auba moves into a central role – generally to devastating effect. At other times Lacazette drops down to the bench and Aubameyang performs admirably in the striker role. Yet Emery generally likes to have both men on the pitch, as he knows how dangerous they are.
Best Strike Duo in The Big Six?
For the purposes of comparison, it is possible to tease out a strike partnership in most of the other Big Six teams. Man City's most dangerous forwards are Sergio Aguero and Raheem Sterling, as the first goalscorer markets highlight, while Tottenham have Harry Kane and Son Heun-min. Marcus Rashford and Anthony Martial are the two most advanced attackers for Man Utd, while the closest thing Chelsea have to a strike partnership is Tammy Abraham and Mason Mount.
We can just write that last one off immediately. Both players show a great deal of promise, but they are no match for Aubameyang and Lacazette right now. Chelsea are very much in transition and the Gunners really should finish above them in the table this season. The teams outside the Big Six cannot muster up a strike partnership to rival Arsenal's either. Leicester come the closest, as Jamie Vardy and James Maddison are both quality players, but you would not swap them for Lacazette and Aubameyang.
That leaves just Man Utd, Tottenham, Liverpool and Man City. Martial and Rashford are a lot younger than Lacazette and Aubameyang, and their potential is vast, but right now Arsenal have a better strike partnership than Man Utd. Since joining the Gunners in January 2018, Aubameyang has fired in 35 goals in 53 league games, and in a number of those games he started on the bench. He shared the Golden Boot with Salah and Mané last season, but he had a better goals per minutes ratio than both of them. He has been similarly lethal this time around, scoring three in four games. Lacazette has a goal for every 74 minutes played so far this season.
Martial and Rashford have both scored twice in 2019/20, but Martial has a goal every 135 minutes and Rashford has a goal every 178 minutes. Last season they only managed 10 goals apiece, whereas Aubameyang scored 22 and Lacazette scored 13. Arsenal's forwards are more consistent than Man Utd's, their chemistry is stronger and they are better at bringing teammates into the game. For that reason, it is safe to say that Arsenal have one of the top four strike forces in the Premier League, along with Man City, Liverpool and Tottenham.
Who Has the Best Strikers in North London?
Spurs undoubtedly boast a strong attack. England captain Kane has two Golden Boots under his belt and he is a goal machine. Son has been on a real upward curve in recent years and he is now a dangerous forward, blessed with pace, intelligence and strong finishing ability. However, they lack the chemistry of Aubameyang and Lacazette. Son typically has his best games when Kane is injured. He was excellent against Man City in last season's Champions League, and he enjoyed a real purple patch in front of goal when Kane was sidelined.
Kane has scored three times so far this season, while Son is yet to get off the mark. Last term, they combined for 29 goals, compared to 35 for Aubameyang and Lacazette. Arsenal's strikers are becoming increasingly dangerous as they grow more accustomed to life in English football and it is easy to see them outscoring Kane and Son this season, so the Gunners certainly boast the best strike partnership in north London right now.
The Genius of Aguero
Lacazette and Aubameyang form a devastating strike partnership, but right now Man City provide the offensive benchmark for the Premier League. Aguero and Sterling scored 38 goals between them last season, despite the Argentinean missing a number of games through injury. He has already scored six goals in three games this time around, leaving him as the top scorer in the division. Sterling is next, after he scored five goals in his opening four games. He has come on leaps and bounds under Pep Guardiola's tutelage, and Man City boast a sensational attack.
You could argue that Sterling and Aguero benefit from better service than Aubameyang and Lacazette. Man City enjoy more possession, they score more goals and rack up more points than Arsenal, while they have magicians like Kevin De Bruyne, David Silva and Bernardo Silva creating great chances on a regular basis. Aubameyang and Lacazette are not exactly feeding off scraps at Arsenal, but they get fewer chances in front of goal. It is difficult to argue that they are better than Aguero and Sterling, but it is pretty close.
It is impossible to name a strike partnership at Liverpool, as Mané, Salah and Firmino are all equally important to the Reds' attack. Lacazette, Aubameyang and Pepe could prove to be similarly effective, and it will be fascinating to see how well they develop as a trio this season. In conclusion, Arsenal now have one of the top three strike forces in the Premier League. It is a long time since we were able to say that, as fans have suffered years of inept finishing at the hands of the likes of Marouane Chamakh, Nicklas Bendtner and Olivier Giroud. They now have two exceptional finishers within their ranks, and very few teams in the world can make that claim. All Arsenal need to do now is sort the defence out.