Denis Suarez can be Aaron Ramsey's long-term replacement
By
mac14
on March 14, 2019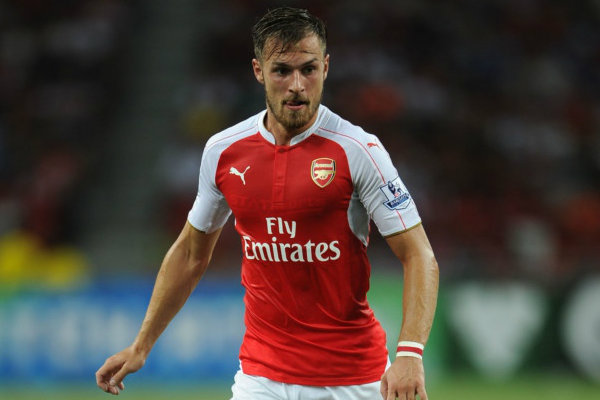 Cometh the Hour; Cometh the Man. If anything could summarise Aaron Ramsey's life at Arsenal, no better title suits him perfectly.
The Welsh international is on his way to Turin at the end of the season but has left huge boots to fill. Ramsey has been holding Arsenal's midfield helm for over a decade, not only that, steering the wheel through all the highs and lows. Not to forget his invaluable contributions in significant matches; particularly in the FA Cup where he's scored winners in two finals.
Ramsey has brought back the memories we have of him with his recent performances against Tottenham and Manchester United. His calmness  to find the net at 'his f*cking Wembley' in his last North London Derby and his superb performance against Manchester United on Sunday. Understandably, there are many fans raging that we're letting him leave after seeing his recent displays and are still desperate for him to stay.
But it's too late… The flight to Turin has already been booked 🙁  A superb career in north London is set to come to an end but at least his future has been settled early so Emery has plenty of time to find the ideal replacement.
There have been lots of reports suggesting Arsenal are scouting potential replacements for Ramsey but we already have one staling on the bench. Denis Suarez is the perfect long-term substitute for Ramsey because of the attributes he possesses.
The midfielder may not have gotten the amount of game time he expected to receive after joining on loan from Barcelona in January because of Henrikh Mkhitariyan's return from injury and Mesut Ozil's return to considerable form.
Nevertheless, Denis Suarez will acclimatise to his new surroundings, the Premier League, to the fans and to the English football. But his adapting to the Premier League is not what he was signed for. No, the playmaker, more of a conventional Spanish midfielder capable of turning the game on its head, was signed desperately by Unai Emery to bring in creativity and discipline in attacking third.
Suarez may not have the goal-scoring record of Ramsey but he does share a lot of other attributes. Both have an affinity to create spaces and squeeze through opposition's defence to create chances for their team mates. Equally adapt in terms of intelligence and knowledge of the game, Suarez, like Ramsey, knows what is required of him by the manager and also brings in versatility to the squad, as he's comfortable playing centrally or on the wing.
While the other side of Suarez has shown us the hunger to develop, to excel and to make a name for himself. Suarez has been demonised as a Barcelona misfit, yet we consider him as a Ramsey-esque replacement because he has the ability to shine alongside the likes of Ozil, Mkhitaryan and Iwobi.
Denis Suarez can be a tricky attacker who teases the opposition defence, he can make well-timed runs into the box, press aggressively from the front and create goal-scoring opportunities for his team mates. In short, he has the traits needed to be a long-term Ramsey replacement at Arsenal if he's given the chance to prove himself.