"Fraud", "worse than Wenger" – Some Arsenal fans want '#EmeryOut' after West Ham loss
By
mac14
on January 12, 2019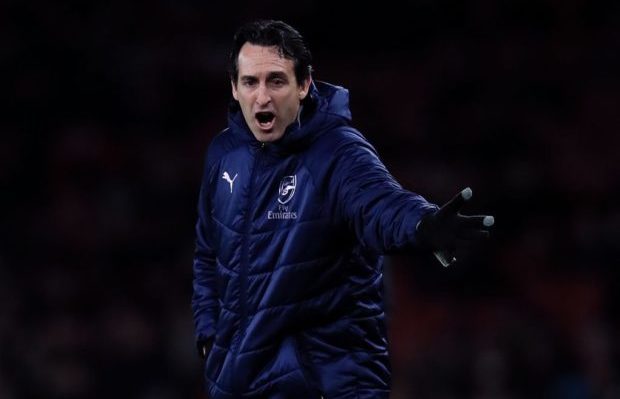 It's fair to say the honeymoon period for Unai Emery is well and truly over with some Arsenal supporters already calling for his head after today's defeat at West Ham.
Emery enjoyed a solid start to life at the Emirates Stadium after replacing Arsene Wenger in the hot-seat last summer as after losing our opening two games, we went on a 22-game unbeaten run in all competitions.
However, the wheels have fallen off in recent weeks as we've won just two of our last six Premier League games [W2 D1 L3] and suffered our third loss in that period with a disappointing 1-0 defeat at West Ham this afternoon.
We struggled to create many clear cut chances and fell to a sloppy goal shortly after half time when Declan Rice curled home a lovely effort following a woeful headed clearance from Granit Xhaka.
Fingers have rightly been pointed at Emery as he left our most creative player, Mesut Ozil, back in north London for 'tactical reasons' and some fans aren't happy with how the Arsenal boss is dealing with his feud with the German playmaker.
Today's performance, especially in the second half, was pitiful and even without Ozil you'd expect an Arsenal side with the likes of Pierre-Emerick Aubameyang, Alexandre Lacazette and Alex Iwobi to at least trouble the West Ham goal.
However, we were one-paced all game, failed to control things in midfield and once again failed to keep a clean sheet at the back so we got deservedly beaten this afternoon and are now in danger of falling six points behind fourth-placed Chelsea.
Fans clearly aren't happy and some have taken to social media to call for Emery's head with one fan claiming Arsenal are worse under the Spaniard than we were under Arsene Wenger while other supporters labelled Emery a 'fraud'.
Fans have every right to be concerned as we've not played well for weeks and I also haven't seen many signs of actual progress this season but I do acknowledge that wanting to change the manager is premature as it's going to take a lot longer than 6 months to solve all of Arsenal's problems.
Here is what some fans have been saying:
Disgraceful @Arsenal ? There are transition seasons but then there is this. This squad is paid £240m pa and this is what they produce. The club is a joke. The players are awful. The manager is a fraud. We are worse under him than Wenger. #EmeryOut

— Adam John Kemp (@AdamJohnKemp) January 12, 2019
Tell me how Stan Kroenke is at fault for that piss poor performance? Rather than screaming for hundreds of millions, why not take a look at this fraud who has absolute no clue how to coach a team at this level. #EmeryOut

— 2goons1spud (@2goons1spud) January 12, 2019
Unai Emery is a joke #EmeryOut

— Gooner Huncho (@Thug_gooner) January 12, 2019
Not ready to back any coach or players that doesn't deliver. Not gonna stress myself like I did during Wenger reign. SACK THE COACH !!! #EMERYOUT

— #MerciArsene (@Captseunphilips) January 12, 2019
Zero improvement in this team under Emery. Similar points, league position and away form to date. Worse defending, if anything, but slightly more goals. Not in any way good today though.

— WestStandTone (@WestStandTone) January 12, 2019
We definitely need better players, but the way we approached that game with the existing players was a joke. That's on Emery and them, not Ranch Stan.

— S (@wood10_) January 12, 2019
Three clean sheets in 22 games. Only Fulham have fewer.
Didn't expect a great deal in the first season with a new manager but did expect us to actually get better at the back.

— Lewis (@LGAmbrose) January 12, 2019
Massive question marks for Emery in my opinion. 6 months in and our creativity and defensive organisation hasn't improved at all. There's a strong argument to suggest it's got worse.

— Ell (@AFCAnalytics) January 12, 2019
Hanging that loss on Emery. His cautious set up hurting us again.

— You Are My Arsenal (@YouAreMyArsenal) January 12, 2019
The worst performance of the Unai Emery? Going to be vying with the Liverpool defeat for that honour.

A lot of blame for that has to go on Emery – he decided to ditch Ozil from the squad when there should always be a place for someone that inventive.

— James Benge (@jamesbenge) January 12, 2019
That was rubbish. Big questions for Unai Emery to answer in terms of team selection and set-up. 1 clean sheet in 15 Premier League games. Not good enough by any standards.

Got what we deserved today, which was nothing.

— arseblog (@arseblog) January 12, 2019
One of the worst #afc displays in years. Hard to like this team or the idea behind it. 6th place confirmed.

— Sam (@samuelJayC) January 12, 2019
'What can be expected in 6 months'

Pelligrini inherited an awful side that plays with more sauce than Arsenal. The defence looked organised and solid today. West Ham pressed us until the end.

We have better players but still no identity, belief or organisation.

— Le Grove (@LeGrove) January 12, 2019
Team selection wrong yet again. Can't blame that on lack of funds. We are a mess.

— wearethenorthbank (@northbanklower) January 12, 2019
Quite a pitiful performance by Arsenal. They're suddenly a team without a plan and a club without money. Need to steady the ship quickly before the negativity takes hold and becomes crippling again.

— Mattias Karén (@MattiasKaren) January 12, 2019
The Emery reign has left me with more questions than answers.

— Sam (@samuelJayC) January 12, 2019