"Finished", "Needs to be binned" – These fans savage Arsenal player after Saints loss
By
mac14
on December 17, 2018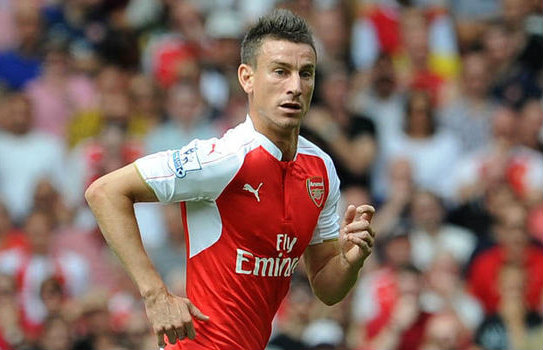 Some Arsenal fans have torn in to Laurent Koscielny after his disappointing performance during our 3-2 defeat to Southampton on Sunday afternoon.
Koscielny has only recently returned to action following over seven months on the sidelines with a ruptured Achilles that he suffered during our Europa League semi-final defeat to Atletico Madrid last season.
The 33-year-old was initially eased back in to action after playing for the youth sides before making his first team comeback with a 70 minute run-out against Qarabag in the Europa League last Thursday.
With Sokratis and Shkodran Mustafi suspended and Rob Holding injured, Unai Emery was forced to start Kos in a make-shift back-three alongside Stephan Lichtsteiner and Granit Xhaka against Southampton on Sunday.
Unfortunately, the Frenchman was badly off the pace as he was at fault for the opening goal as he bizarrely tried to clear a high cross with his foot instead of his head which allowed Danny Ings to head past Bernd Leno.
Koscielny was then caught out for Ings' second goal before his poor marking led to Leno coming way off his line and failing to collect a cross that resulted in Southampton's late winner.
Plenty of Arsenal players were below par yesterday but it was a horror-show from Koscielny on his Premier League return and many fans have taken to social media to savage the centre-back.
Some claim he's 'finished' and needs to be 'binned' while others suggest it's time he retired. One support even says Arsenal should break the bank to sign Matjis de Ligt as his long-term replacement.
The criticism of Koscielny is a little over the top as he's been a great servant for the club but I think it's fair to say he's unlikely to ever get back to his best form at his age after such a serious injury.
However, I do think being forced to play him twice in four days was a lot to ask and hopefully Koscielny's form improves over the coming games once he improves his match fitness. Plus, he was never going to come straight back in and hit the ground running after seven months out and it's no surprise we were poor in defence with a back three of Koscielny, Lichtsteiner and Xhaka!
Here is what some fans have been saying:
Koscielny is finished. We should go out and break the bank for matjis de ligt!!! Impossible but these are the signings we should target!!

— arsenalmad79Reloaded (@arsenalmad37) December 17, 2018
Koscielny needs to retire. Not good enough

— Marios Christodoulou (@MarioChristo85) December 17, 2018
Koscielny needs to be binned even before his injury so don't start hating thinking I'm being harsh or whatever. The man is finished??‍♂️

— Gooner Adam (@AdzCampbell91) December 16, 2018
Koscielny's career is over.

— now.arsenal (@nowarsenaI) December 16, 2018
And Koscielny is finished

— Adnan (@Adnan19i) December 17, 2018
Please find the nearest bin & put Koscielny in it. Finished at the highest spectrum.

— dc (@davidjcarri) December 16, 2018
Leno came off his line because Koscielny was miles away from his man. 3 positional faults from Koscielny, 3 goals conceded.

— dc (@davidjcarri) December 16, 2018
Those 7 months without Koscielny were the best 7 months of my life.

— Ghoochannejhad (@_C_hacha) December 16, 2018
I know Koscielny has been out for some time but that doesnt excuse a performance THAT poor. You shouldn't forget how to mark a man just because you've been injured.

— Henrik Hindby (@HenrikHindby) December 16, 2018
Koscielny getting brutally exposed man ??

— _ (@Emery_Knows) December 16, 2018
Absolutely rubbish performance. Koscielny is finished.

— OzzieGooner (@PerMotorcycle) December 16, 2018
I'm sorry but Koscielny is done.

— Bernard the Gooner (@bernard_gooner) December 16, 2018
Last year when Arsenal played with Mustafi-Koscielny, everyone used to stick it on Mustafi. But Kos was the problem. Its not being disrespectful, its being real. He's the best ever centre back to play for this club in 10 years, but he's past it now.

— LTArsenal™️ (@ltarsenal) December 16, 2018
Embarrassing. Absolutely terrible. Emery with a backward starting XI. Koscielny made three mistakes which led to every goal. Awful, awful, awful.

— Connor (@TikiTakaConnor) December 16, 2018