'Awful', 'Sell' – Some fans slam Arsenal star after poor display vs Watford
By
mac14
on September 29, 2018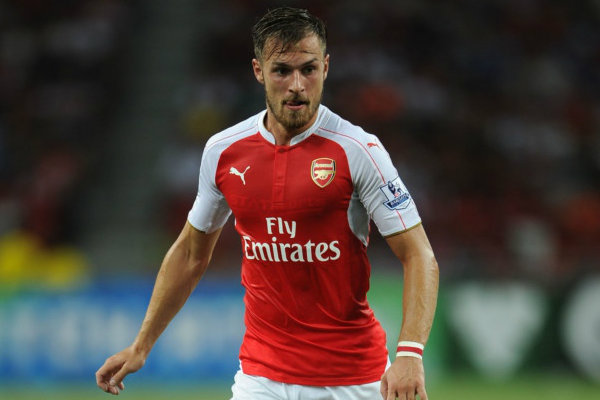 Some fans have taken aim at Aaron Ramsey on social media following his disappointing performance during Arsenal's 2-0 win over Watford this afternoon.
Ramsey was under the microscope today after it emerged the Welsh international is set to leave Arsenal either in January or on a free transfer at the end of the season after talks over a new contract collapsed.
Unai Emery still chose the midfielder to start in the No.10 role against Watford this afternoon so understandably supporters were keeping a close eye on Rambo to see how he responded to the contract news.
Unfortunately, the 27-year-old had a game to forget as he struggled to have any positive influence on the match and failed to make any significant attempts to create chances at goal.
To be fair, the whole Arsenal team were below par during his time on the pitch but perhaps tellingly, we only stepped things up when Ramsey was replaced by Alex Iwobi midway through the second half.
Iwobi and Danny Welbeck changed the game as they injected some pace out wide and with Mesut Ozil moved in to the No.10 role that Ramsey had vacated, we looked far more balanced. Iwobi set-up the opening goal while Welbeck and Iwobi played a part in the build up to Ozil scoring the second that secured a vital three points.
Some fans have taken to social media to say Ramsey was 'awful' today and suggest that Emery should not only replace him with Iwobi in the starting line-up from now on but the Welshman should be sold.
Ramsey was poor today, there is no doubt about it, and his inclusion in the No.10 certainly unbalances the team as Ozil is shunted out wide so it's time for Emery to make a decision. I personally still think Rambo should be played deeper alongside Torreira instead of Xhaka but his contract situation makes it difficult to keep him as a starter this season.
Check out what some supporters have been saying:
Ramsey's been awful today. ?

— Clairey Quite Contrary (@gooner_claire) September 29, 2018
Sell Ramsey, bring In Iwobi.

— Björn (@BjECAFC) September 29, 2018
Ramsey should not play for #Arsenal again. He and Ozil cannot play together in this system. The whole team is unbalanced. Continuing to select him is a failing of Emery.

— Chester A. Barfer (@chesterabarfer) September 29, 2018
Hopefully Emery has finally realised Ramsey is awful and starts Iwobi every league game now

Every fucker can see it apart from him.

— KindGooner (@GoonerTiliDie19) September 29, 2018
Playing Ozil outwide to accomodate Ramsey is outrageous. Drop rambo for the sake of the team. We need pace on the wings.

— Amos (@Amos_mozart) September 29, 2018
I'm more bothered about Welbeck signing a new deal rather than Ramsey right now… Ramsey was invisible today

— Jack (@jackhorton7) September 29, 2018
Iwobi over Ramsey from now on, surely?

— Mattias Karén (@MattiasKaren) September 29, 2018
Yeah…. don't understand this role Ramsey is playing. It's basically 10v11 at the moment

— YankeeGunner (@YankeeGunner) September 29, 2018
Arsenal will not miss Ramsey one bit. Put his wages toward a winger like Zaha/Bailey and the squad will be much better off.

— RG (@registability) September 29, 2018
Ramsey needs to be dropped been our worst player all season. I love him but under this system I'm not sure there's a place for him in this squad

— Steve Francis Thomson (@ManofMischief96) September 29, 2018