'Sell in January', 'woeful' – Arsenal star slammed for display against Brentford
By
mac14
on September 27, 2018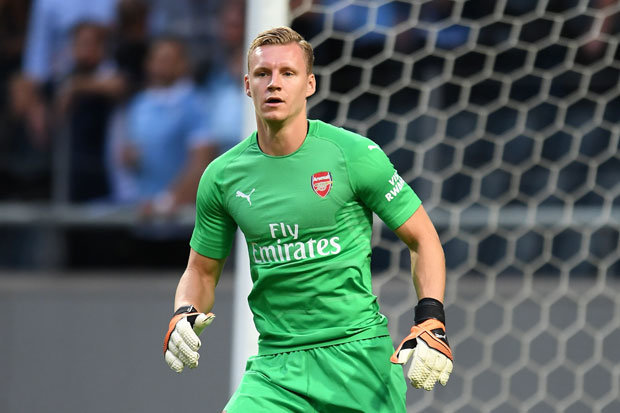 It seems some Arsenal fans weren't impressed with Bernd Leno's performance during our 3-1 victory over Brentford in the third round of the Carabao Cup last night.
Supporters were excited when Arsenal splashed around £22m to sign the German goalkeeper from Bayer Leverkusen in the summer as it seemed like we'd finally got our hands on a new number one with Petr Cech's form slowly declining in recent years.
However, Unai Emery decided to stick with Cech as his first choice goalkeeper and to be fair the Czech legend has stepped up his game and produced some excellent performances so far this season.
Leno made his debut during last weeks Europa League clash with Vorskla as we kicked off the group stages with a win but the 26-year-old failed to keep a clean sheet after conceding two late – albeit excellent – goals.
The German keeper was given another chance to impress in the League Cup last night but he almost got off to a nightmare start after making a mess of a routine back-pass which almost resulted in an own goal.
Leno settled in to the game and it was his pass that led to the second goal but once again he failed to keep a clean sheet after conceding a 20-yard free-kick to Alan Judge. It was a fine strike but many fans were unimpressed by Leno's attempts to save it and they've taken to social media to voice their concerns over the goalkeeper.
Some have blasted Leno as 'woeful' and questioned his 'awful' positioning for the Brentford goal while one fan even called for Emery to sell the keeper in January. Another went one step further and claimed Leno is worse than David Ospina!
I think it's far too early to be making judgement's yet as Leno will need time to adjust to life at Arsenal and I actually thought he had a steady game expect for the dodgy backpass last night.
However, others disagree. Check out what they've been saying here:
Leno's positioning was awful

— lawaholic. (@MAHylton) September 26, 2018
RE the Brentford goal , Leno starting posistion is nothing short of woeful. A decent freekick and he got nowhere near it. Interesting to see him get a run of games. Not sure on his shot stopping ability.

— Guendouziiiii (@Maxii9185) September 26, 2018
I can't believe I'm saying this, but Leno hasn't made a very good case for himself. Deserves his place on the bench.

— The Ikechi D. (@CI_Douglas) September 27, 2018
Leno is a T-Rex. We need to get to the bottom of this problem where he never fully stretches for shots. He has conceded 2 very very poor goals in 2 games. Not a fan at all, 3rd choice quality, I'd sell in Jan tbh. That's a flaw I can't wrap my head around for a player this level.

— Original Saucerer (@AmpliaLaFamilia) September 27, 2018
I'd put Martinez as backup keeper and drop Leno to the reserves

— christybones (@crsbrn78) September 27, 2018
I now understand why Emery benches Leno, no matter how uncomfortable Cech is on the ball. Not even half as good as Cech

— KanteNation (@sethaadusei) September 27, 2018
Just watching the highlights of #ARSBRE & that could really have been some nightmare start for Bernd Leno had he scored an OG. WTF was he doing…….hopefully he'll kick on now but don't see him dislodging Cech anytime soon

— Red&Dread (@RedandDread) September 27, 2018
Bernd Leno isn't good enough to start games for Arsenal FC. He proved it against Brentford last night. @BrentfordFC @Bernd_Leno @PetrCech @Arsenal @Carabao_Cup

— Hakim Ziyech (@CriusNabin) September 27, 2018
Watching Highlights today i dont think i trust Leno over Cech anymore, he looks dodgy AF also.

— Kay Cee (@Bambo_Kanthu) September 27, 2018
Leno beaten by a central shot yet again. He's absolutely shit. I swear he never fully stretches for shots? He's worse than Ospina.

— Original Saucerer (@AmpliaLaFamilia) September 27, 2018
Just seen the Brentford free kick again. Leno seems to have completely forgotten to extend his arm to attempt the save. Most odd.

— WestStandTone (@WestStandTone) September 26, 2018