[Photo] Concern grows after Arsenal star is snapped leaving stadium in protective boot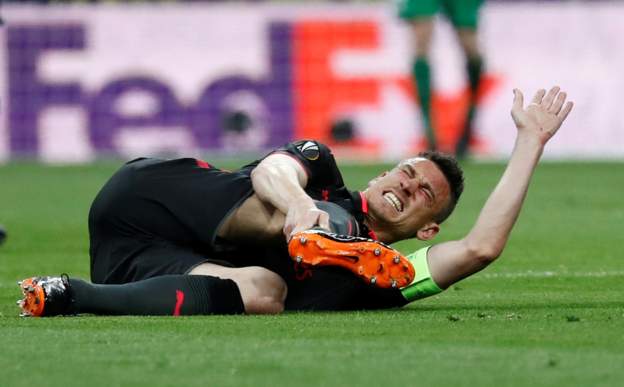 Fears are growing that Laurent Koscielny has ruptured his Achilles after he was spotted leaving the Wanda Metropolitano stadium last night wearing a protective boot.
Koscielny pulled up holding the back of his ankle during the opening exchanges against Atletico Madrid last night and you could tell immediately that it was serious.
The centre-back was writhing around in pain and replays showed he had collapsed with no other player around him after his ankle appeared to give way on him.
After several minutes of treatment from the clubs medical team, Kos was eventually replaced by Calum Chambers and he was distraught as he was stretchered from the pitch.
Arsene Wenger gave an update shortly after the game and confirmed that the early signs aren't good and it appears Koscielny may have totally ruptured his Achilles.
The boss wants to wait until scan results come back and he's still praying for a miracle before ruling him out of the World Cup finals but I think it was clear from his reaction last night that Kos knows he won't be going to Russia.
Wenger told Arsenal.com:
on Koscielny…
It doesn't look very good. His Achilles is… You can always hope for a miracle in the scan that he will have but the first signs don't look very good.

on whether it's a ruptured Achilles…
You will know that more soon. It looks like it could be that. I'm a bit cautious [about confirming that] because nobody could say that without looking at it clinically.

on Koscielny's World Cup chances…
That depends on the scan, if he has a ruptured achilles his chances are non-existent. We will know more after the scan.
We can all live in hope but it looks like Koscielny's Achilles finally gave up last night. He's been nursing the problem for over a year and it was only a matter of time before it snapped.
The photo below shows Kos leaving the Wanda Metropolitano stadium wearing a protective boot last night and sadly it looks like he's got a long road to recovery ahead of him. Get well soon boss.