[Tweets] Arsenal fans call for action against Mike Dean after Wenger charged by FA
By
mac14
on January 2, 2018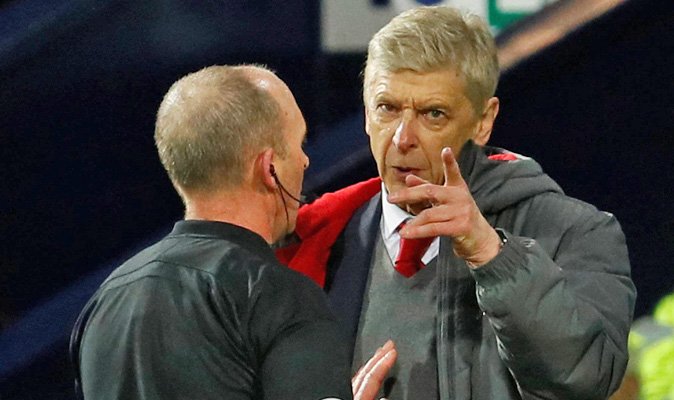 Arsenal fans have been calling for Mike Dean to be charged with incompetence after Arsene Wenger was slapped with a misconduct charge following our 1-1 draw with West Brom.
Wenger was left furious after Dean gifted the Baggies a late equaliser from the penalty spot when Kieran Gibbs kicked the ball against Calum Chambers' arm, even though it was in a natural position in front of his body.
The boss remonstrated with the forth official promoting Dean to have a word with him on the touchline and Wenger blasted the decision in his post match press conference as it's certainly not the first time we've been let down by the officials this season.
However, it seems the Frenchman also made his feelings perfectly clear to the referee in his changing room after the game and it's led to a misconduct charge from the FA.
A statement on thefa.com confirmed Wenger has been charged for using abusive language and for questioning the integrity of Dean.
Arsenal manager Arsene Wenger has been charged following the West Bromwich Albion game on Sunday [31/12/17].

It is alleged his language and/or behaviour in the match officials' changing room after the game was abusive and/or improper and/or questioned the integrity of the match referee.

He has until 6pm on Friday [05/01/18] to respond.
Understandably, the news hasn't gone down well among Arsenal fans as they've taken to social media to blast the decision while many have demanded Mike Dean is also charged with incompetence for his horrendous error on Sunday.
Being a referee is one of the few jobs in the world where you don't have to explain your decisions and aren't held accountable for your mistakes. Until this changes, we'll continue to see ego-maniacs like Mike Dean make basic 'errors' and hide behind the FA.
Waiting for Mike Dean to be charged with incompetence. pic.twitter.com/2hlHGghFiM

— ChristopherTucker (@godlikemonolith) January 2, 2018
So what's Mikes punishment for another balls up again?? Probably nothing. He must be a very happy ref today!! Got what he wanted again. The attention

— Liam (@Liam_110) January 2, 2018
And what action against Mr Dean for another shit decision nothing I suppose

— Steve Head (@Head1962Head) January 2, 2018
When is mike dean being charged with incompetence ? 🤔

— Brian Boyle (@brianmboyle) January 2, 2018
Icing on the cake. Bravo Mike Dean. Naturally he won't be charged with incompetence

— Anthony Ward (@shnozzmoana) January 2, 2018
Thing is though, will Mike Dean get charged for his mistake? Being a referee is the most protected job in the world, bar none.

— ً (@Kolasinax) January 2, 2018
Does the ref get charged too?

— Ian Naylor (@IanNaylor1) January 2, 2018
Mike Reid should be punished as well

— Vigo (@MrVigoC) January 2, 2018
Mike Dean's latest horrendous cockup continues to lead to punishments for the victims of his utter incompetence. Sack the bastard.

— Goonerholic (@TheGoonerholic) January 2, 2018
Another example of how utterly useless & possibly corrupt the clowns running the @FA are. Mike Dean is the one who should be charged & not allowed to referee even a kids game in the park #farce

— SteveH (@cmotsteve) January 2, 2018