Arsenal boss confirms fresh injury blow following Southampton win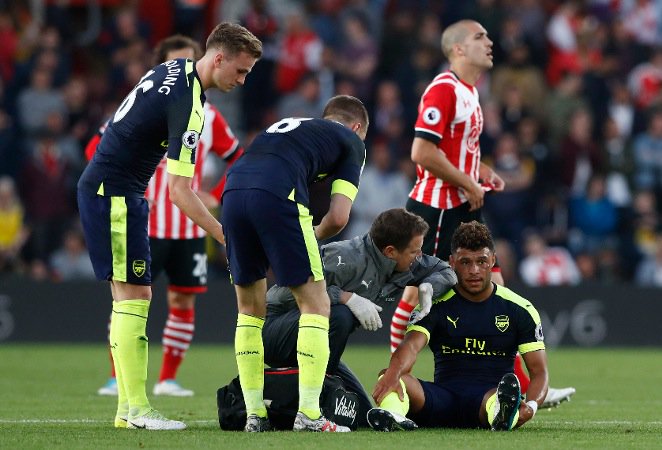 Arsene Wenger has confirmed a fresh injury blow after Alex Oxlade-Chamberlain suffered a hamstring injury during Arsenal's win at Southampton last night.
The Ox once again started in the right wing-back position at St Marys and made an encouraging start to the game before going down clutching his left hamstring midway through the first half.
The midfielder received treatment from the clubs physio but was eventually forced off and he limped down the tunnel after being replaced by Hector Bellerin in the 36th minute.
Speaking to Arsenal.com, Wenger has confirmed that Oxlade-Chamberlain has suffered a hamstring injury but we won't know how long he'll be on the sidelines for until further tests are carried out.
Obviously with an FA Cup final against Chelsea coming up in just over two weeks time, fans are concerned The Ox may miss out but Wenger says the injury doesn't look too serious as the 23-year-old is able to walk freely.
The boss said:
on Ox's injury…
It's a hamstring problem. But we don't know how bad it is.

on whether there's a chance Ox could miss the FA Cup final…
I don't know. It doesn't look, because he walks properly. It was tight, it was not a knife, you know. Personally, I didn't see any incident where he had to stop for a sprint, it was more fatigue. But it's difficult to assess now, after the game.
It's another untimely injury for Oxlade-Chamberlain as he's been in excellent form in recent weeks but hopefully we get some positive news when the test results come back.
Unfortunately we have two more games coming up in the next five days so it looks like The Ox will at least miss those but fingers crossed he'll be available for the final league game with Everton and the cup final.