How Arsenal might line-up next year with new signing Xhaka included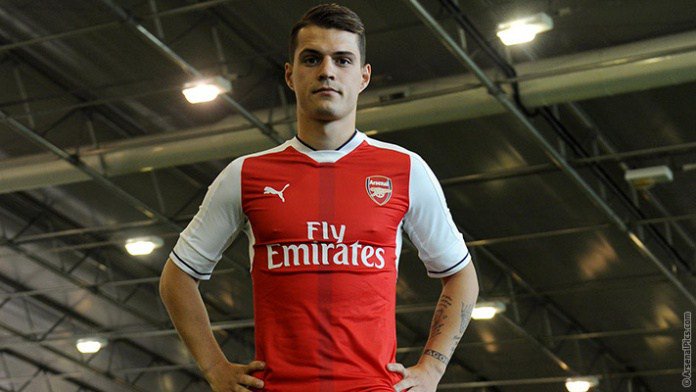 Granit Xhaka was finally unveiled as an Arsenal player earlier today after completing a big-money move from Borussia Monchengladbach and thoughts now turn to how the Swiss international will fit in to Arsene Wenger's starting eleven.
I'll say form the outset that these formations are based on the players we have in the squad now but hopefully we'll have at least a new centre-back/right-winger/striker to choose from come the start of next season.
I've also discounted Danny Welbeck as he'll be out for the majority of next season with a serious knee injury but I'm assuming all other players are fit and available for selection.
Xhaka is a central midfielder and given we've just splashed out a reported £25m-£30m on him, I think it's safe to assume Wenger plans on starting him, so the question is who will play alongside him.
Santi Cazorla has been a key player for us [when fit] so ordinarily he'd be an automatic pick and if the Spaniard is selected alongside Xhaka, then that could see Aaron Ramsey pushed out to the wing as has been the case at times over the past couple of years.
The team would look like this: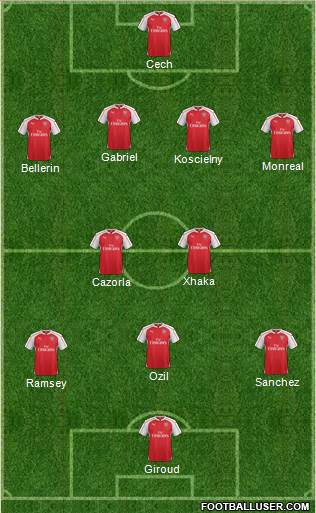 However, as Xhaka is a deep lying midfielder who likes to take possession form the back four and instigate attackers from deep, I think it's unlikely he'll play with Cazorla as that has been the Spaniard's job in recent times.  So we could see Santi become more of a squad player next season.
Our midfield options are now as strong as ever with Wilshere, Ramsey, Coquelin, Cazorla, Elneny and Xhaka all vying for starting spots so perhaps Arsene will be tempted to change formation to fit in three central midfielders next season.
That could see Xhaka deployed in the deepest role with two from Elneny/Wilshere/Cazorla/Elneny in front of him: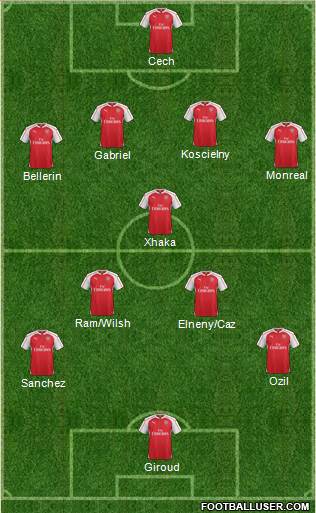 The problem with this formation, and it's a big one, is that it would see Mesut Ozil moved out to the wing and not in his preferred central role. So for this very reason, I hope Arsene resists the temptation to utilise this formation.
So based on a midfield two, perhaps next season we'll finally see Jack Wilshere fulfill his potential and form a partnership with Xhaka? I'd certainly love to see Jack establish himself and really start to build the career we all know he's capable of.
The problem I see with the Wilshere/Xhaka combo is that it's not as diverse as perhaps Arsene would want so that could see Elneny come in to the team – and he's been excellent since his arrival in January.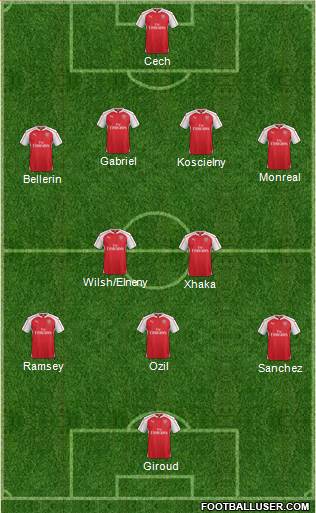 The big problem in any of these formations is who the second winger is as Walcott and Oxlade-Chamberlain have failed to make the role their own. I've gone with Ramsey again in the formation above but the reality is we need to bring in a top class attacker to fill that role.
Iwobi did very well during the closing stages of the season but I'd be surprised if he was a first team starter next season. Perhaps Walcott will be given another chance at Arsenal but based on the form he's showed in recent months, he'd be lucky to make the bench.
It's certainly going to be interesting to see how Arsenal line-up when the new season kicks off in August but I just hope we've signed a new centre-back, right-winger and a top class striker to compliment Xhaka by that point.
What formation would you go with next year?