Midfielder says Arsenal are 'awesome' ahead of proposed £34m move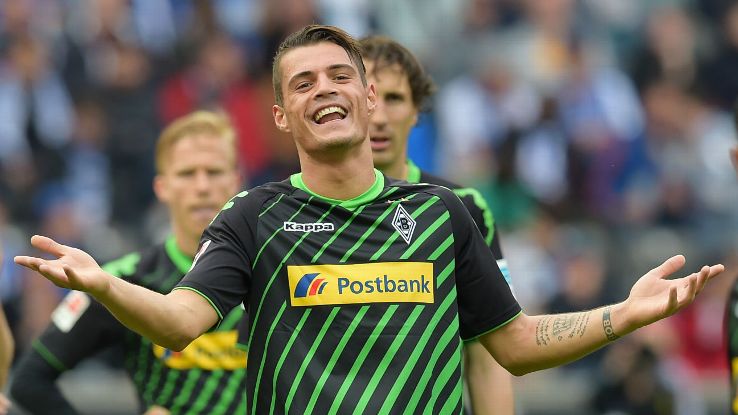 It looks like Granit Xhaka's move to Arsenal is edging ever-closer as the midfielder has now been quoted as saying that Arsenal are 'an awesome club' ahead of a proposed £34m switch.
Xhaka has been strongly linked with a move to Arsenal this year as Arsene Wenger is on the look out for another central midfielder with Mikel Arteta and Mathieu Flamini set to leave next month.
The speculation surrounding a possible deal for Xhaka has intensified in recent days with the Evening Standard reporting last week that we'd finally submitted an official £33.8m offer for the Swiss international.
Borussia Monchengladbach were then quoted by the Daily Star earlier this week as saying that they had reached an agreement with an unnamed club – widely considered to be Arsenal.
"There has been a specific offer for the Swiss midfielder [Xhaka].

"[We have] an agreement with the interested club but [it] is still pending."
Now, the 23-year-old has dropped a huge hint that he's heading to the Emirates after describing Arsenal as 'an awesome club'. Xhaka was speaking at a press conference after being named in the Swiss Euro 2016 squad yesterday and when quizzed about his proposed move to North London, he's quoted by Swiss newspaper Blick as saying:
"As of today I am Gladbach. But London is beautiful city – and Arsenal is an awesome club ".
I think it's fair to say that a move is on. In fact, I wouldn't be surprised if the deal was confirmed over the coming days. Xhaka is clearly talking up Arsenal and has already confirmed he wants things sorted before the start of the Euro's.
Gladbach have been giving out mixed signals as although they've been quoted above as saying an agreement is in place, they've also suggested to other outlets that a fee hasn't even been discussed yet.
This is all part of the negotiations and is to be expected in modern-day transfers. For me, the only thing that will stop the deal going through is Arsene getting cold feet and pulling out or Gladbach moving the goal posts at the last minute.
Let's hope we can get this deal wrapped-up soon as Xhaka would be an excellent addition to the squad.