Midfielder Hints International Team-Mate May Sign For Arsenal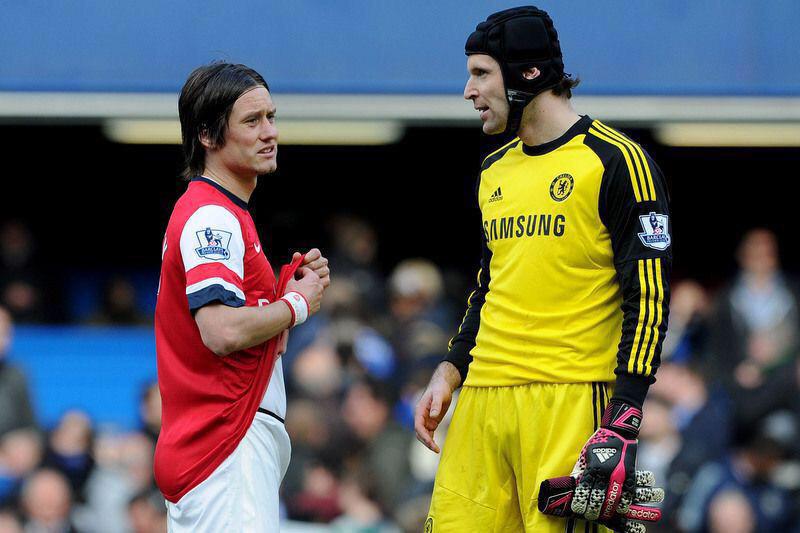 Tomas Rosicky has dropped a hint that international team mate Petr Cech could be heading for Arsenal this summer.
Cech is set to leave Chelsea after losing his first team place and Arsenal are reportedly leading the chase for his signature.
There has been daily speculation over the goalkeepers future over the past few weeks but most of the papers agree on one thing, that Cech would prefer to remain in London.
The 33-year-old confirmed earlier this week that a move away from the capital would cause 'difficulties' for him and his family, opening the door to a move to the Emirates.
Cech also revealed that he's due to hold talks with Chelsea officials to discuss a move away from Stamford Bridge next week and Roman Abramovich is expected to let the player choose his next club – even if it's a rival such as Arsenal.
The keeper is currently away on international duty along with Tomas Rosicky and the Arsenal midfielder has dropped a big hint that his compatriot could be heading to North London.
Rosicky confirmed that he's got inside knowledge on the deal and says it's no surprise that 'players' want to join a fantastic club like Arsenal. He told reporters:
"I know about some things from both sides but I will not interfere," he said.

"It could even turn against me. Both sides know what they are doing. Arsenal is a top world team. Players want to be transferred there [Arsenal], that is nothing new, it is a fantastic club."
So basically Rosicky knows Arsenal want Cech, and that Cech wants to join us, but that doesn't necessarily mean a deal will go through smoothly.
Mourinho is desperate not to sell to a rival and no doubt he'll do everything to prevent the deal – although publicly he's said he won't stand in Cech's way if Abramovich gives the green light to a sale.
We should know a lot more next week after he's held talks with Chelsea. Fingers crossed we hear good news as Cech would be an excellent signing if we could pull it off.