Arsenal Ace Desperate To Prove Fitness Ahead Of FA Cup Final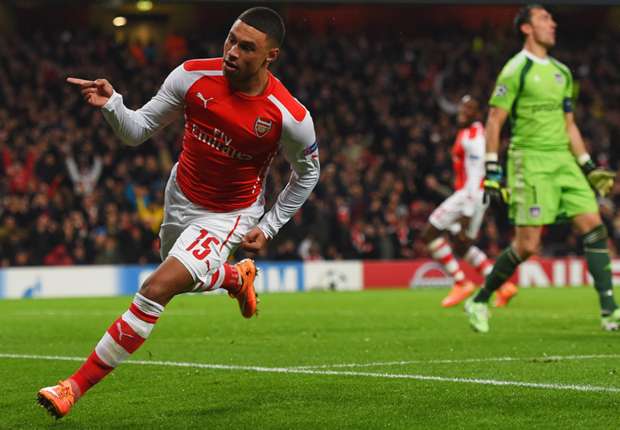 Arsenal midfielder Alex Oxlade-Chamberlain is desperately trying to prove his fitness to Arsene Wenger ahead of Saturday's FA Cup final.
The Ox has only just returned from over two months on the sidelines with hamstring and groin injuries and he marked his comeback with a 15 minute cameo appearance off the bench during our 4-1 victory over West Brom on Sunday afternoon.
However, with such little playing time under his belt in recent weeks, the 21-year-old is desperate to try and prove his fitness in training this week to show the boss he's ready to play some part against Aston Villa at Wembley.
"I don't know [if I'll make it]. I hope that I'll be fit and I'll be available but it will be up to the manager to decide if he think I'm fit and I'm ready.

"That's completely up to him [Wenger] and in his hands, all I can do in training is prove my worth and show that I'm ready.

"The main thing is that whoever is picked goes and gets the job done and two FA Cups in two years would be a great achievement for us.

"Obviously I'd be delighted if I was but it's up to the manager and we'll have to wait and see."
It would be a bitter blow for Oxlade-Chamberlain if he wasn't involved on Saturday as he also missed last years FA Cup final victory over Hull City through injury.
The midfielder explained:
"It was a really difficult one. It's not a nice feeling. Especially when you feel that you have been influential.

"Last year I'd been injured three weeks and only came back a few days before the match and the manager felt the other boys who'd been playing and training were more ready.

"It was a disappointing one to take, especially because when I was at Southampton in the Johnstone's Paint Trophy final I was in a similar situation. Alan Pardew said to me 'I'm leaving you out today because I feel like you'll be back here in the future a lot,' and then the second one comes along and I miss it as well!"
Let's hope he manages to prove his fitness to Arsene in training this week as it would be a cruel blow for him to miss another trip to Wembley.
I don't think there's any chance he'll start but with Danny Welbeck expected to miss out this weekend, there's a good chance The Ox will be included in the squad as we'll need some options on the bench.