Tweet: Sanchez Hints He May Have 'Done An Ozil' & Made Injury Worse
By
mac14
on February 11, 2015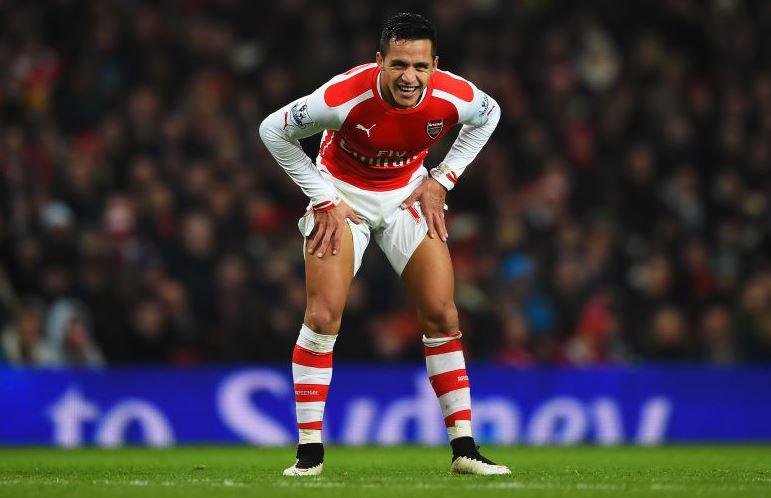 Alexis Sanchez has taken to Twitter to suggest that he may have made his knee injury worse after insisting on carrying on against Leicester City last night.
Sanchez suffered a knee injury midway through the first half after taking a heavy challenge from former Arsenal defender Matthew Upson.
In typical Alexis style, the Chilean international carried on after receiving some treatment from the physio but he was clearly hampered by the injury for the remainder of the half.
Many expected Sanchez to be subbed at half time so it was a surprise to see him come out after the break, but he continued to struggle until he was eventually replaced by Giroud in the 68th minute.
Arsene Wenger admitted after the game that he wanted to sub Alexis at half time but he insisted on playing on and now the forward has taken to Twitter to hint that his 'anxiety to be on the football pitch' may have made the injury worse.
Sometimes the love for the game and anxiety to be on a football pitch works against you ⚽️

— Alexis Sánchez (@Alexis_Sanchez) February 10, 2015
Am I the only one concerned that Arsene allowed Sanchez to play on? Obviously the boss and his staff need to take the players opinion on board with regards to injuries, but Arsene admitted after the game that it was clear Alexis was in discomfort and he wanted to sub him, so why the hell didn't he?
We all know Sanchez has to be dragged from the field. The lad would play on with a broken leg if he could. So Arsene should have taken the decision away from the player and taken him off at half time, if not even earlier.
It was exactly the same situation with Ozil against Chelsea earlier in the season. He got a knock to his knee. Arsene wanted to take him off at half-time but Ozil insisted he was fine, played on and it turned out he had damaged knee ligaments and was ruled out for months.
Let's just hope Sanchez hasn't 'done an Ozil' as it would be devastating to lose him at this stage of the season.