Wenger Offers Injury Update On Sanchez & Ramsey
By
mac14
on February 10, 2015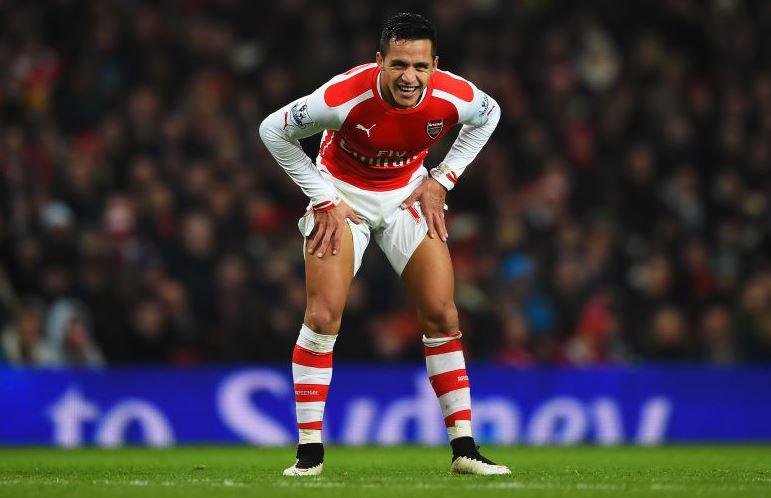 Arsene Wenger has confirmed that Aaron Ramsey appears to have suffered yet another hamstring injury but he isn't sure how bad Alexis Sanchez knee problem is just yet.
Ramsey was only on the pitch a matter of minutes during Tuesday night's 2-1 win over Leicester before slumping to the floor and signalling to the bench he needed to be replaced.
The Welshman limped from the pitch with what looked like a hamstring injury and the boss has said it 'didn't look good' from where he was sitting. Arsene doesn't know how long Rambo will be out for but even a minor hamstring injury will be 2-3 weeks. Let's hope it's nothing serious or we could be looking at some serious time on the sidelines.
Sanchez was another who was forced off during the game. The Chilean picked up a knee injury in the first half but tried to run it off and you could clearly see the injury was hampering his performance.
Surprisingly, he appeared after the break but only last 10 minutes before he was replaced by Giroud.  Arsene has revealed that he tried to take Sanchez off at half-time but the player insisted he was fine to continue, so let's just hope he hasn't made things worse by carrying on.
The boss doesn't know how bad the injury is so we'll have to wait and see once further tests are done over the next couple of days.
Arsene told Arsenal.com:
on Aaron Ramsey's hamstring injury…

It looks like it. I don't know how bad it is yet. Just visually, it didn't look good. When a guy stops straight away and sits down, that's not good news. There's a recurrence now of a few muscular injuries and it's difficult – we haven't found out why. I basically left him out today because I wanted to be cautious with him. I had to bring him on – I had a hesitation between Flamini and him – because we lacked a a bit of offensive power. It was not the best of decisions.

on his third hamstring injury this season…

Yes. Last year was a thigh but this year it's a recurrence of hamstrings. You cannot say it's no worry because after the player doesn't play with the freedom in mind.

on whether he will get an extended rest…

He's not overplayed. Before I never looked at him, I just played him in every game but since he's had these problems I'm a bit more cautious with him.

on Alexis…

Sanchez got a knock on his knee. I don't think he was himself. From the moment he got this knock, he was never really comfortable. I don't know for how long he will be out and whether he will be out or not. I haven't seen the doctor.

on whether he was ok to take Alexis off…

Yes I was ready to take him off at half-time but he said, 'no it's okay, I can go on'. When I watched him play I thought, 'No, that hasn't [got better]'. Sometimes when you run it off it's just a kick but he became worse and I didn't see him in the second half.