Alexis Sanchez Facing 4 Weeks Out With Hamstring Tear – Report
By
mac14
on February 6, 2015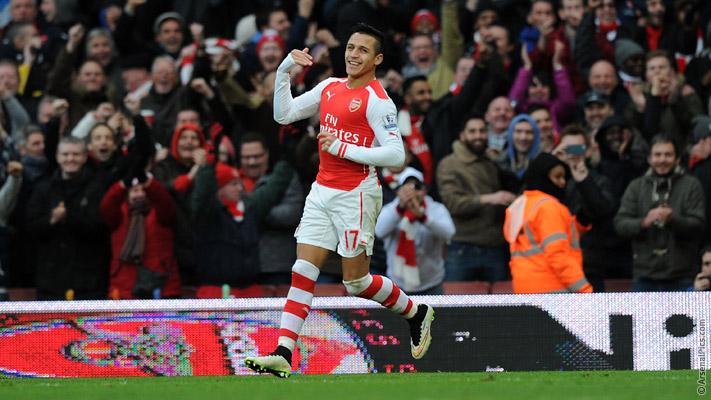 Some potentially worrying news coming out of Chile with newspaper La Tercera claiming that Arsenal attacker Alexis Sanchez is facing a month on the sidelines with a hamstring tear.
Sanchez missed last weeks win over Aston Villa with what Arsene Wenger called a 'minor' hamstring strain but the boss said after the game that Sanchez would be fit to face Tottenham the following Saturday.
Arsene then said in his team news update yesterday that the 26-year-old was still 'short' of fitness and ruled him out of the trip to White Hart Lane, but Sanchez was expected to be back in time to face Leicester on Tuesday.
Wenger told Arsenal.com on Thursday:
"The latest is that Alexis is not ready," he said. "He is not far away, the Leicester game is a possibility. He is of course very difficult to keep quiet. He is training but it's light training. He wants to have a go, but I think he is too short [of fitness]."
Things looked slightly more positive this morning when the boss told reporters at his pre-match press conference that Sanchez was desperate to play and would take part in training this afternoon in order to try and prove his fitness for the Spurs game.
The expectation was that Wenger would still not take the risk of starting him, but he may put Sanchez on the bench and only use him if desperately needed.
However, a report coming out of Sanchez's home country tells a very different story as newspaper La Tercera claims that the fear is his injury is worse than first thought and the attacker is actually facing 4 weeks on the sidelines after apparently tearing his hamstring. The Express has also picked up on the story.
The paper says that Sanchez's agent Fernando Felicevich is on his way to London to see his client and await further news regarding his 'injury', which they say he aggravated when he came on during the final stages of our win over Brighton.
Let's hope La Tercera's information is wide of the mark but it does seem highly unlikely that Arsene would tell reporters just this morning that Sanchez would be taking part in training today and was still a possibility for the Spurs game, if he was facing a month out.
You never know with Arsenal, as we have a pretty poor record with diagnosing and treating injuries, but I hope the Chileans are simply guessing that because Sanchez was ruled out of the Spurs game yesterday, they have jumped to conclusions before hearing Arsene's update this morning and assumed the injury is a lot worse.
However, they do say "people in Sanchez's inner circle" fear he's torn his hamstring, though. Which is worrying.
If the worst happens and Sanchez is ruled out for a month, then as well as the Spurs game, he'll miss Leicester City, Middlesbrough, Crystal Palace and Monaco in the Champions League.
I'm choosing to believe the La Tercera report is bullsh*t though…..let's hope so anyway….