TEAM NEWS: Wenger On Walcott, Ramsey, Arteta, Ozil, + Koscielny
By
mac14
on October 16, 2014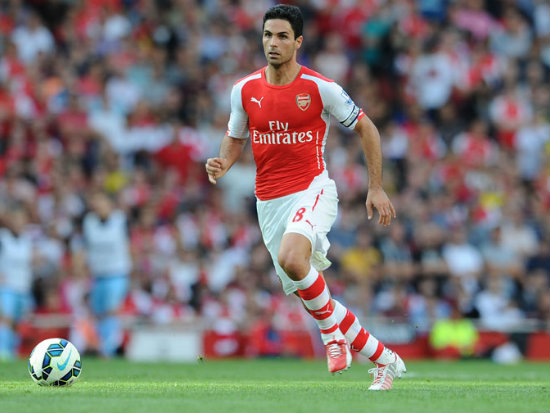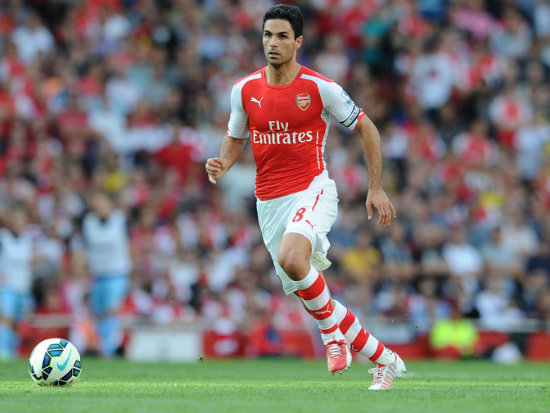 Arsene Wenger has given Arsenal.com an extensive injury update ahead of Saturday's clash with Hull City at the Emirates.
Unfortunately Laurent Koscielny has been ruled out of the game after being sent home from France duty with tendinitis in his Achilles. Thankfully he doesn't require surgery but we're going to have to assess him on an on-going basis.
The boss confirmed what most already knew, that Theo Walcott will turn out for the Under-21's on Friday night. Contrary to some suggestions though, Arsene doesn't expect him to be on the bench against Hull.
Serge Gnabry is also set to play on Friday night but he's considered to be slightly behind Theo in his rehabilitation so will certainly not be involved for the first team this weekend.
There is some good news with Mikel Arteta being back in the squad after a three week absence, while Aaron Ramsey will return to full training on Monday and be in contention to face Anderlecht on Wednesday.
Yaya Sanogo continues to be sidelined by this mysterious 'hamstring' strain but Tomas Rosicky is expected to be passed fit despite picking up a calf injury while away with the Czech Republic.
Arsene also gave a detailed explanation over what happened with Mesut Ozil's injury. This was in response to some criticism he received from those who thought he'd left the German on against Chelsea knowing he had a knee injury.
However, the boss insists he didn't know about the injury until after the game and told Ozil to let him know if he felt discomfort during the second half at Stamford Bridge. Either way, Ozil is now going to be out for at least six weeks.
Wenger said:
on the team news…

We have been hit a bit hard with Koscielny coming back and his Achilles being worse, and of course discovering the Ozil injury which we thought was nothing because he finished the Chelsea game. He is out for a while now. For the rest, the positive news is Walcott is back in full training, Serge Gnabry is back in full training, We have as well Giroud ahead of schedule, so we have some positive news.

on whether Walcott could face Hull….

No, he will play on Friday night in the under-21s. He has been out for nine months and needs to find some rhythm in the game and some confidence to go into the contact.

on Gnabry being on contention…

Gnabry is like Walcott, he has been a bit more in and out, he had no big surgery. But he is not completely ready today, he is even a bit behind Walcott. I don't think either of them will be involved.

on Arteta…

Arteta is back in the group, and will be in the squad.

on Ramsey…

Saturday's game is too soon for Aaron. He will be back in full training on Monday and certainly in the squad for Wednesday [against Anderlecht].

on Sanogo…

He is too short, not ready yet but not far away.

on Koscielny…

No [he will not be available]. He has an achilles problem, which has got worse. he finds it difficult to play with it at the moment. You can only trust what the players says, he does not feel ready to play and will not play on Saturday. No [he will not need surgery].

on Rosicky…

Rosicky came back with a kick on the calf. He's supposed to practice today. He didn't play the second international game because of that but he should be available for Saturday.

on Ozil…

He told me [about the injury] once it was discovered on the scan. He did not tell me anything during the Chelsea game, I did not know. What happened was that at half-time, just before we went out, he had a little pain with his knee but it was not bad. He wanted to go on and I told him, 'If you don't feel well, tell me and I will take you off straight away'. He never did that during the whole game, and after I left him on because we were in a position where we needed to score a goal and he can deliver the final ball. Then after the game, he went to Germany. With Germany, they thought at the start it was nothing. We played on Sunday, on Monday he was off, and on Tuesday they gave him the day off. He was supposed to practice on Wednesday. On Wednesday morning, he said he could still not practice. They sent him for a scan, and in this scan they discovered that he a knee ligament injury which is quite serious.
It's good news to have Arteta back but obviously it's a big blow to lose Koscielny. In his absence, Arsene is likely to start Nacho Monreal at the back but I'd prefer to see Isaac Hayden given his chance. You can see what my line-up would be for the game here.