TEAM: Here's How Arsenal May Line-Up With Welbeck In The Team
By
mac14
on September 2, 2014
Arsenal made just one signing on transfer deadline day with Danny Welbeck arriving from Manchester United for a fee in the region of £16m. Here's how I see him fitting in to the team.
With Olivier out until the new year, I think it's clear that Welbeck will be playing the majority of his games through the middle for the foreseeable future.
He's spent most of his time out wide for United, and he's certainly capable of playing out there so will give Arsene Wenger options. However, central striker is his favoured position and I think that's where we'll see him play for the most part at Arsenal.
Welbeck is 6ft 2″, he's strong and is decent with the ball at his feet, so he'll be able to play the target man role and bring the likes of Alexis and Walcott into the game in and around the box.
Arsene may see Alexis as a central striker in the future, but for now I think we'll see him on the wings and with Theo back in full training, he could be back in contention after the international break, and I'd love to see these two deployed either side of Welbeck.
Welbeck also has pace and likes to run behind, so Ozil would have three fast attackers in front of him to work with, and with Rambo also making late runs into the box, we'd have an attack to match anything in the league.
Obviously it's going to take a bit of time for Welbeck to get used to our style of play and to gel with his team mates, but I feel he's got all the attributes to be a top centre-forward for us.
Here's how our starting eleven could look in a few weeks with our latest addition: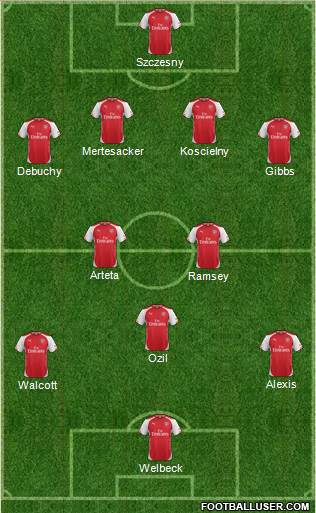 What do you think of the team? How would you line-up with Welbeck in the squad?