Arsenal's New-Look Line-Up With 6 Key Signings Including Fabregas
The transfer rumours are in full swing and Arsenal are being linked with a whole host of names across the world, and with Arsene Wenger understood to have £100m available to spend this summer, it's promising to be an exciting few months.
With all the speculation going on it's nearly impossible to know who Arsene's true targets are and he always keeps his cards close to his chest anyway, but I'm going to come up with a realistic list of targets and show how we could line-up next season.
The big talk at the minute in the newspapers is the possible return of Cesc Fabregas. He's not loved at Barcelona and we have a buy-back clause reportedly worth just £25m. Wenger won't be able to resist if Cesc is up for the move, and I don't think we should turn down a world class player if we can get him for just £25m.
I've seen people worry about where he'd play, but Arsene would find a way to fit him in and I could see Ozil moving out to the left. The German drifts out wide often in games anyway, and our team never plays in a rigid formation so the players can interchange throughout the course of the game.
Defensive midfield is an area we certainly need to strengthen and I'd go for Morgan Schneiderlin from Southampton. He's likely to be cheaper than other targets like Lars Bender and he has Premier League experience. Reports claim we're lining-up a £12m bid but we may need to pay nearer £15m to land the Frenchman.
Another striker is also required this summer and although many are hoping to see a marquee name come in, I just don't see happening it I'm afraid. Realistically, who are we going to get? Costa's off to Chelsea, and Benzema won't leave Madrid unless they buy Suarez. Which they won't this summer. Mandzukic isn't the answer as we need to add pace to the attack, and if we do sign Cesc, then we won't have the £40m+ required to land a big name like Cavani, etc.
So I think a shrewd buy would be Loic Remy. Reports claim we're in talks, he's got an £8m buy-out clause and has proved he can score goals in the Premiership. He also has pace and brings something very different to what Giroud offers, and can play out wide if needed. He ticks all the boxes if we can't land a super-striker.
We also need to bring in another attacking wide player and Antoine Greizmann is on our radar. There is talk we're going to use our buy-back clause for Carlos Vela to reduce the fee for Greizmann to just £15m, which would be a superb buy. He has bags of pace, can play on either wing and even up top if needed and scores goals.
With Bacary Sagna off to Man City, Serge Aurier is hotly tipped to be his replacement. It would be a great buy if we could get him for under £10m, with the papers suggesting we could even pick him up for just £7m, and he can even fill in at centre-back if needed.
A new back-up goalkeeper is needed to replace Lukasz Fabianski. Many names have been linked but David Marshall from Cardiff would be a good buy. We've been linked with a £6m swoop and if he's happy to be second choice, it would be a decent purchase.
So here are the six signings I'd like to see us make this summer:
Remy £8m
Aurier £7m
Schneiderlin £15m
Fabregas £25m
Griezmann £15m
Marshall £6m
That's a total of £76m, which is the maximum I think we'll end up spending this summer. We all know Arsene isn't going to be pressured into spending the whole £100m, so if he uses £76m of it we should all be happy!
It would leave money left over to replace Thomas Vermaelen if he leaves, or perhaps if the boss is feeling adventurous he could find an upgrade on Remy. Someone in the £25m-£30m bracket. Jackson Martinez could be a good shout but for the difference in price, Remy is probably a safer bet.
So here is how my team would line-up with the new recruits: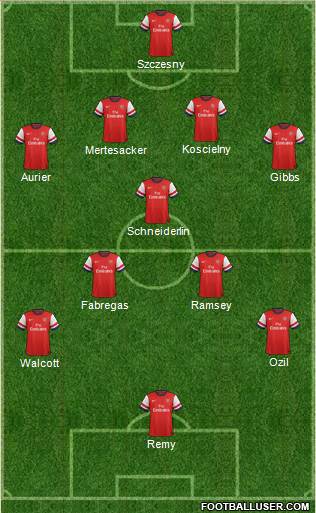 Subs from: Marshall, Vermaelen (replacement if he leaves), Monreal, Jenkinson, Arteta, Flamini, Wilshere, Oxlade-Chamberlain, Cazorla, Griezmann, Podolski, Rosicky, Gnabry, Giroud, Sanogo.
I think that's a well balanced squad and all the signings are realistic and within budget. We've added pace in Remy and Greizmann, a bit of power and a proper defensive midfielder in Schneiderlin and our marquee signing would be Cesc Fabregas.
I would certainly be one delighted Gooner if Arsene was to add those six players this summer, and we'd have a great shout of winning the title next season.
What do you think? What players would you realistically like to see Arsene sign? Would you take Fabregas back?