Wenger's Worst XI: Cygan + Park Are In But Does Santos Make The Cut?
By
mac14
on March 19, 2014
As Arsene Wenger gears up to celebrate his 1000th game in charge of Arsenal, I thought I'd have a bit of fun and come up with his worst ever XI.
To be fair, considering he's been in charge 18 years, it wasn't as easy as I thought. In fact, it was impossible to find a right-back who deserved to be labelled as a 'flop'. Arsene's had a very good record with right-back's over the years with Dixon, Lauren, Sagna and even Eboue all being solid options.
It's the left side he's had more problems with, and central defence is certainly an area the boss has struggled to fill. I could probably have made a team up consisting of just central defenders! Anyway, let's get on with the team:
Goalkeeper: Richard Wright
He was highly rated at the time, so you can't blame Arsene for taking a risk on him, but the English stopper didn't work out at all following his move from Ipswich in 2001. Special mention: Rami Shaaban pushed him close.
Right-back: Sébastien Squillaci
Like I've said, we haven't really had many bad right back's so I've had to move a central defender out of position and the man I went for is Sébastien Squillaci. An absolute disaster following his move from Sevilla in 2010.  Somehow he managed 40 appearances for us.
Centre-back: Igor Stepanovs
Spent four years at Arsenal between 2000 and 2004, and somehow picked up a Premier League winners medal in 2002 and FA Cup medals in 2002 and 2003. He was useless and played a key role in our 6-1 thumping at Old Trafford in 2001.
Centre-back: Pascal Cygan
Perhaps a little bit harsh as he was useful on occasion and even managed 18 appearances for the 'Invincibles', but largely he was a liability during his four years at the club.
Left-back: Mikel Silvestre
Fergie must have pissed himself with laughter when he managed to shift the ageing Silvestre to Arsenal in the summer of '08.  He took Cygan's old No.18 shirt, and didn't fair much better in it than the previous incumbent. Special mention: Andre Santos. The Brazilian was close to making the cut but his goal against West Brom which helped seal Champions League qualification saved him!
Midfield: Amaury Bischoff
The injury-prone German was a gamble due to his injury record when we signed him in 2008, and it's safe to say it didn't come off. Made just 4 appearances during his one season at the club before being released. Special mention: Denilson. Was perhaps harshly treated by some Arsenal fans but he just wasn't good enough.
Midfield: Alberto Mendez
One of Arsene's early signings as he was picked up from German non-league side SC Feucht in 1997, Mendez was way out his depth and made just 4 league appearances during his five-year stint at Highbury.
Midfield: Junichi Inamoto
Let's face it, we all know he must have been bought to sell merchandise in Japan! Arsene signed him from Gamba Osaka in 2001 but he made little impression on the first team, making just 4 appearances – all in the cups – before leaving the following summer.
Forward: Kaba Diawara
Another early signing for Arsene as he plucked the unknown Diawara from Bordeaux in 1999. The French-born attacker has some pace about him but his touch and finishing left a lot to be desired. Made 12 appearances, scoring zero goals, before being released.
Forward: Ju-Young Park
One of the strangest signings in living memory. We hijacked Lille's move to sign the South Korean from Monaco in 2011 and handed him the No.9 shirt, which suggested Arsene must have rated him. He arrived with a reasonable record of 25 goals in 91 games for Monaco and 24 goals in 62 appearances for his country, so some fans were quietly optimistic he might turn out to be a surprise package. However, he's made just four appearances for the first team and spent the majority of his time with the reserves before being shipped out on loan to Celta Vigo and more recently Watford. God knows why he wasn't used more often or why we even signed him in the first place.
Striker: Francis Jeffers
Jeffers arrived at Arsenal in 2001 with huge expectation as the 'fox in the box' the club had been missing since the days of Ian Wright. However, burdened by his £8m price-tag, the England striker struggled to replicate the kind of form he showed at Everton and managed just 8 goals in 39 appearances before being sent back to Merseyside on loan two years later. Special mention: Chris Wreh. Should arguably be in the team but I couldn't bring myself to do it as he scored a screamer against Bolton.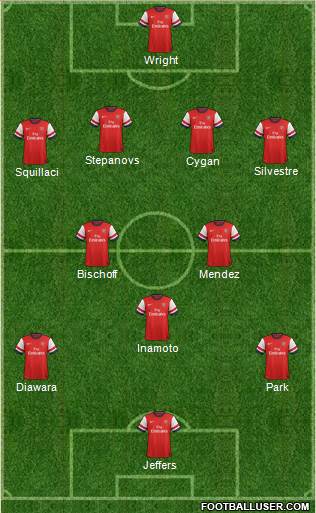 When you consider the number of players he's signed over the years, you have to say Arsene has an excellent record. Every manager makes mistakes, even Fergie and Mourinho have bought some stinkers in their time, so despite the eleven above, there aren't many managers I'd trust with our money in the transfer market.
I'll do my 'Wenger's best XI' tomorrow, which should be just as fun because he's made plenty of excellent signings!
What do you make of my team? Can you think of anyone I've left out? What would your 'worst XI' be?