Top 5 Expensive Arsenal Transfers of all time
By
mac14
on November 20, 2023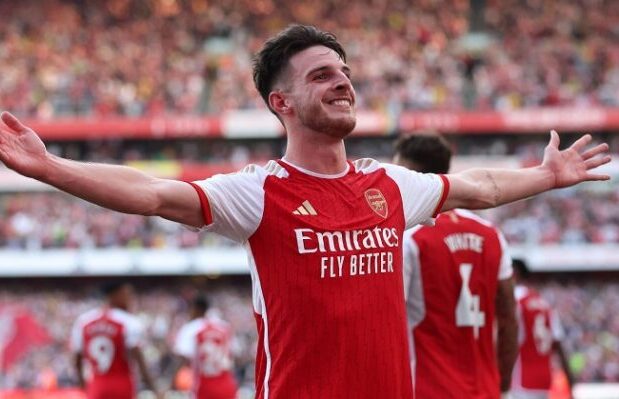 Even after a long time without facing the top teams in the Champions League or contending for the Premier League title, Arsenal remains one of Europe's wealthiest clubs. Whether it was during the successful era of Arsene Wenger or the rebuilding period with Mikel Arteta, Arsenal has always been willing to back up their talk with cash.
Throughout the years, this North London club has pulled off some impressive deals and invested a hefty sum of money. They are always on the lookout for the best talent, just like bettors always looking for the top sites for football bets.
Let's take a peek at the five priciest signings Arsenal has ever made.
5. Ben White (€58.5m)
When Arsenal secured Benjamin White's signature, fans generally saw it as a good move due to his promising performances at Brighton. However, the massive amount Arsenal shelled out for the centre-back faced sharp criticism. Although his debut season showed decent results, White truly stepped up his game in 2022-23.
Playing as a defensive-minded right-back, White solidified his spot in Arteta's defence, earning widespread praise and effectively quieting those who had doubted his abilities.
4. Pierre-Emerick Aubameyang (€63.8m)
Pierre-Emerick Aubameyang smoothly transitioned his stellar performances from Dortmund to the Premier League midway through the 2017-18 season. Joining Arsenal in January, he made an immediate impact with 10 goals and four assists in 13 league games.
Aubameyang carried this momentum, scoring 22 Premier League goals in both the 2020-21 and 2021-22 seasons. Notably, he secured a brace in the 2020 FA Cup final, helping Arsenal lift the trophy by defeating Chelsea. However, challenges arose after he inked a new contract in the summer of 2020. His discipline and form waned, leading to a fallout with manager Mikel Arteta, and he eventually left for Barcelona on a free transfer in January 2022.
Despite the ups and downs, Aubameyang left a mark at Arsenal, tallying an impressive 92 goals in 163 games.
3. Kai Havertz (€75m)
Once hailed as the Bundesliga's standout wonderkid, Kai Havertz faced a challenging stint at Chelsea. Forced into roles that didn't align with his strengths, Havertz became a symbol of the disarray at Stamford Bridge.
Undeterred by his struggles, Arsenal was ready to invest €75m in the German talent. Mikel Arteta believed that a shift to the Emirates could breathe new life into Havertz's career. Departing Chelsea, Havertz left behind a record of 32 goals and 15 assists in 139 games.
2. Nicolas Pepe (€80m)
At €80 million, you'd hope for a real game-changer, and Nicolas Pepe fell short of that mark. In his debut season, the Ivorian managed only five goals in the Premier League, but he bounced back with double that in the following year. Unfortunately, things took a nosedive in his third season, where he could only find the net once in what can only be described as a dismal performance. For the 2022-23 season, Pepe was sent on loan to Nice, and later, in September 2023, he made a free transfer to Trabzonspor. Arsenal ended up paying around €3 million for each goal he scored, making it a pricey deal for the club.
1. Declan Rice (€116.6m)
Amidst widespread rumours linking him back to Chelsea, the club where he honed his skills in the youth set-up, Declan Rice surprised many by switching to their London rivals, Arsenal, for a hefty €116.6 million in the summer of 2023.
In a significant triumph for Mikel Arteta's team, they managed to outmuscle Manchester City in the race for the English international, securing a major coup for the club.
During his final season with West Ham, Rice wore the captain's armband and led the team to victory in the Europa Conference League in his farewell match, leaving a lasting mark on his time with the Hammers.
FAQs
1. What is a football transfer window?
Answer: A transfer window is a specific period during which football clubs can buy and sell players. There are usually two transfer windows in a season: one during the summer and another in January.
2. When do transfer windows open and close?
Answer: Transfer windows vary by country but are generally open during the summer (June or July) and in January. The closing dates are usually at the end of August for the summer window and at the end of January for the winter window.
3. What is a free transfer?
Answer: A free transfer occurs when a player moves to a new club without any transfer fee. This usually happens when a player's contract with his previous club expires, and he is free to sign with another club.
4. What is a release clause?
Answer: A release clause is a specific amount written into a player's contract that, if met, allows another club to buy the player without the selling club's consent.
5. What is a loan transfer?
Answer: A loan transfer involves a player temporarily moving from one club to another for a specified period. The player returns to his original club after the loan period ends.
6. Can a player refuse a transfer?
Answer: In most cases, a player can refuse a transfer if he does not agree to personal terms with the potential new club. However, players under contract generally have a limited say in transfer negotiations.
7. How are transfer fees determined?
Answer: Transfer fees are negotiated between the buying and selling clubs. Factors influencing the fee include the player's skill level, age, contract duration, market demand, and the financial strength of the clubs involved.
8. What is a medical examination in the context of transfers?
Answer: Before a transfer is finalized, the player typically undergoes a medical examination to assess his physical condition. The results can affect the completion of the transfer.
9. Can a player be transferred outside the transfer window?
Answer: In most leagues, transfers can only occur during the official transfer windows. However, there are exceptions for free agents who can sign with clubs outside the transfer window.