Pundit claims Arsenal ace Saliba is best in the league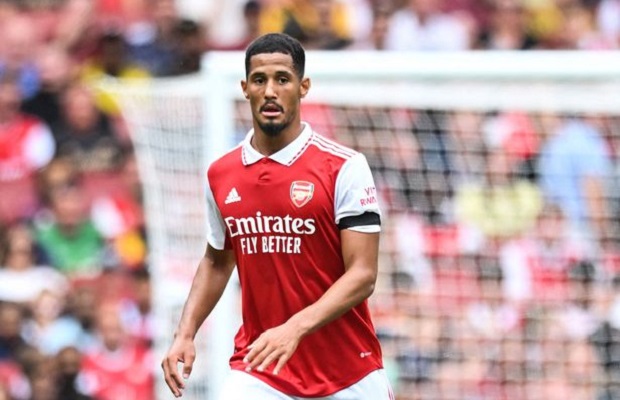 Liverpool legend Steve Nicol has claimed that Arsenal star William Saliba is one of the best defenders in the Premier League at the moment.
After signing for the Gunners from Saint-Etienne back in 2019, the Frenchman initially struggled to break into the North London club's first eleven. So, he was sent out on loan on several occasions to play first-team football and develop his career.
The 22-year-old was handed the opportunity to start for Arsenal last season and he took no time to showcase his best in the English top-flight. The youngster played a key role in helping the Gunners mount a title charge last term, but Arsenal failed to continue showcasing their best following the injury absence of Saliba.
After returning from his issue, the France international has enjoyed a stellar start to this season as well, helping his side place themselves third in the table with 27 points from 12 games. The North London club are currently only one point behind the league leaders Manchester City.
Now, speaking on ESPN FC Show, Nicol has said that Saliba has been excellent in recent years and he hasn't made a mistake in three years. The pundit further states that the 22-year-old was the best defender in the Premier League before his injury issues last term and he has showcased promising performances in this season as well.
Nicol heaps praise on Saliba
Nicol also says that Micky Van de Ven and Saliba are the two best centre-backs in the Premier League at the moment. But, the Arsenal star is currently ahead of Virgil van Dijk.
Nicol said:
"He's not put in Saliba. He's not put a foot wrong for three years. I know he was injured at the end of last year, but before that he was the best centre-back in the Premier League, and I would argue that it's between him and Van de Ven who's the best this year as well. Van Dijk has had a decent start, but there's no way you put him ahead of Saliba, not a chance."
Saliba joined Arsenal with a big reputation but when he struggled to break into the Gunners' first eleven, it was thought that his time at the Emirates Stadium might come to an end without playing any competitive game for them.
However, Arteta eventually decided to give him the opportunity and he has now established himself as one of the best defenders in the league so, he has turned out to be an excellent signing for Arsenal.