The Unseen Power of AFCON: Shaping the Landscape of Top Football Tournaments
By
mac14
on November 1, 2023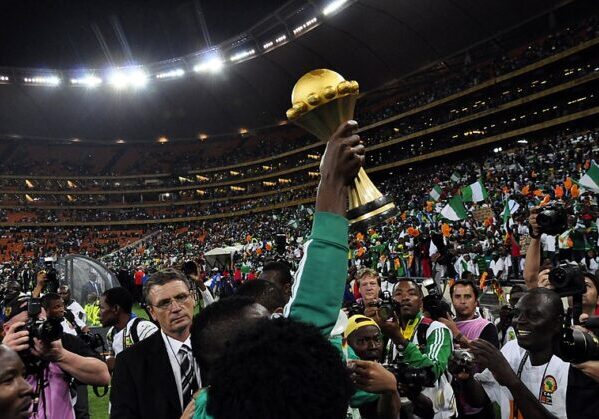 Photo credit: Happiraphael
The Africa Cup of Nations (AFCON) frequently doesn't get the recognition it deserves on the international soccer stage, yet its impact is extensive, particularly on the world's leading five soccer competitions. This piece seeks to illuminate the factors contributing to AFCON's substantial influence, the historical evolutions it has experienced, and its potential to significantly alter the outcomes of other championship races.
The Talent Drain: AFCON's Impact on European Leagues
The Premier League's AFCON Exodus
The English Premier League is one of the most affected leagues when AFCON comes around. In the 2021 event, the league faced the potential loss of 37 pivotal players, including big names like Mohamed Salah, Sadio Mané, and Pierre-Emerick Aubameyang. This mass exit of top-tier talent creates a chain reaction that impacts team dynamics, affecting both the quest for the title and battles to steer clear of relegation. Most bettors know that and use this knowledge as an advantage while placing wagers at trusted bookie apps, such as betking nigeria, which has a comprehensive install guide and review at the Telecomasia website at the link. The upcoming 2023 tournament might leave the gap of up to 43 players, setting to leave their clubs to Ivory Coast for a month.
Arsenal fans know how it feels to lose important players because of the AFCON. Alex Iwobi replaced the retired Victor Moses in wearing Nigeria colors in 2019, while Thomas Partey, Nicolas Pepe, and Mohamed Elneny missed a lot of Premier League action two years later. Pierre Emerick Aubameyang was absent too, though most gooners weren't counting him as a part of the team back then. This tournament might strip Arsenal of Partey and Elneny again, and even though they aren't a part of the starting 11, these players are still needed for the healthy rotation in the club.
The Chain Reaction Across Multiple Leagues
The Premier League isn't alone in facing challenges. La Liga, Serie A, and the Bundesliga also grapple with the loss of essential team members during the course of the event. This creates a vacuum that is hard to fill, leading to unpredictable results and shaking up the title race in these leagues as well.
The Financial Implications
The absence of star players can also have financial repercussions for European clubs. Ticket sales may decline, and the lack of star power can affect the marketability of matches, leading to decreased revenues for clubs during the AFCON period.
The Economic Ripple Effect: More Than Just a Game
AFCON is not just a showcase of African football talent; it's an economic powerhouse. The tournament boosts local economies through increased tourism, hotel bookings, and merchandise sales. It also provides a platform for African players to showcase their skills and attract the attention of international clubs.
A Stage for Global Recognition: The Rise of African Stars
The AFCON Platform
AFCON acts as a vital stage for African athletes to display their talents to a worldwide audience. Notable players such as Didier Drogba and Samuel Eto'o, as well as more recent stars like Mohamed Salah and Sadio Mané, have leveraged the competition to elevate their professional standing.
The Scouting Ground
The tournament is also a scouting ground for talent. European clubs often send scouts to AFCON to identify emerging players. This has led to the discovery of gems who have gone on to make a name for themselves in European football.
The Global Fan Base
AFCON's global viewership has been on the rise, thanks to the international status of African players. When stars like Mané and Salah play, they bring along a global fan base, further elevating the status of the tournament.
The January Dilemma: Scheduling Conflicts and Solutions
The Timing Issue
The timing of AFCON often clashes with the European football season, especially since it takes place in January and February. This creates a dilemma for both players and clubs, who have to decide between national pride and club commitments.
CAF's Stance
The Confederation of African Football (CAF) has been steadfast in its decision to keep the tournament in January. They argue that this period is reserved for international tournaments by FIFA and have resisted pressure from European clubs to change the dates.
The Middle Ground
Some have proposed a middle ground, such as creating a mini-break in European leagues to accommodate AFCON. This would allow players to represent their countries without significantly disrupting their club seasons.
The Power Struggle: AFCON vs. European Clubs
The tension between European clubs and AFCON organizers is a long-running issue. Despite the resistance from European clubs, AFCON has stood its ground, insisting that the tournament dates are set in stone. This has led to increased global respect for AFCON, as supported by notable figures like Ian Wright and Patrick Vieira.
The Cultural Impact: More Than Just a Tournament
AFCON transcends mere soccer; it's a cultural event that unites communities and instills a feeling of national identity. With a viewership that spans millions globally, not just in Africa, the competition stands as a significant sports spectacle on par with other leading tournaments.
The Future: AFCON's Growing Influence
With its rich history, passionate fans, and incredible talent on display, AFCON is poised to become a major tournament worldwide. Its influence on other top tournaments is likely to grow, especially as African teams continue to demand respect and recognition on the global stage.
Conclusion: The Sleeping Giant Awakens
AFCON's influence on the top five football tournaments is undeniable. From economic benefits to talent development and global recognition, AFCON is a force to be reckoned with. As the competition gains more prominence and relevance, its influence on other sporting events is set to increase substantially.
Recognizing the diverse ways AFCON affects the world of soccer allows us to fully grasp its importance in molding the global sports landscape. The moment has come to acknowledge AFCON not merely as an African event, but as a worldwide soccer marvel.