Who are Manchester City's main rivals for the Premier League title?
By
mac14
on September 29, 2023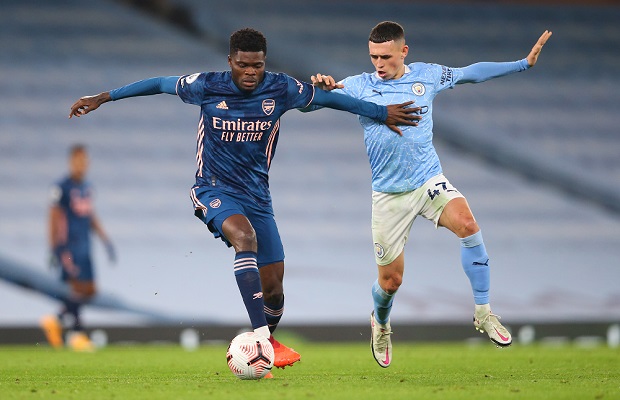 Liverpool, Arsenal, and Tottenham Hotspur are determined to maintain their impressive form as they set their sight on challenging reigning champions Manchester City from winning a fourth consecutive Premier League title.
Manchester City have begun the league season with a perfect 100% record, although they recently suffered a setback with a loss to Newcastle in the Carabao Cup.
The absence of City's captain and playmaker, Kevin De Bruyne, is undoubtedly a significant blow to Pep Guardiola's squad. Few players in world football can replicate De Bruyne's impact on the pitch.
However, City have found a worthy replacement in Álvarez, who has stepped up admirably in De Bruyne's absence. Álvarez has seized the opportunity created by injuries to De Bruyne, Mateo Kovacic, and Bernardo Silva to make his mark in midfield.
Fortunately for City, two of this season's title contenders, Liverpool and Tottenham Hotspur, will face off this weekend, both eager to secure maximum points in their quest for the championship.
City's upcoming fixtures include a match against Wolves, a team they have dominated in their last six encounters, scoring 19 goals while conceding just 3. They will also take on Arsenal in the following weekend, a team they have historically performed well against, winning their last eight trips to the Emirates and convincingly defeating them twice last season when Arsenal was in stronger form. Fans who buy Man City tickets will expect the Citizens to pick up another six points over the next two games and maintain their 100% winning start. Who can possibly stop them from winning another title?
Here's an overview of Arsenal, Liverpool, and Tottenham Hotspur's chances of winning the League:
Arsenal
Arsenal, who came close to winning the league last season, have begun the current season in top form and are one of the two unbeaten English teams in all competitions. Under the guidance of Mikel Arteta, Arsenal have been fueled by hope and ambition, aiming to return to the forefront of football.
Last season, Arsenal demonstrated significant growth by challenging Manchester City until the final stages of the league and laying a strong foundation for future success. Recognizing the need to address squad depth, the Gunners made key signings in the summer, bringing in Kai Havertz, Declan Rice, Jurrien Timber, and David Raya to strengthen their squad.
The addition of Declan Rice, widely regarded as one of the world's top midfielders, offers Arsenal improved squad depth and tactical flexibility. Rice's versatility in defensive and central midfield positions as both a No. 6 and a No. 8 provides valuable options for Arteta.
However, Arsenal have faced issues with chance conversion in the early weeks of the season, scoring just four times from their 6.91 xG from open play across the first six Premier League match days. With Erling Haaland performing consistently for City, Liverpool's frontline in top form, and Son Heung-Min's resurgence, Arsenal might consider adding an elite striker to bolster their title aspirations this season.
Liverpool
Liverpool's performance last season, despite securing qualification for European competition, may have left some fans disappointed. Jürgen Klopp had a clear vision of rebuilding Liverpool's midfield, and the signings of high-caliber players like Alexis Mac Allister and Dominik Szoboszlai have played a significant role in rejuvenating Liverpool's title aspirations.
However, there is a noticeable pattern emerging for Liverpool this season, as they have conceded the first goal in five out of their eight games across all competitions. Remarkably, they have managed to secure victory in every one of these instances. Looking back to the previous season, Liverpool have won each of their last three away games despite conceding the first goal, a feat only matched by Manchester United, who achieved seven consecutive away wins after conceding the opening goal between September 2020 and January 2021.
While this pattern demonstrates the squad's mental resilience, it's a potentially risky habit to fall into, particularly when facing top-four teams.
Nonetheless, Liverpool's strong finish to the previous season, marked by an 11-game unbeaten run with seven consecutive wins, coupled with their impressive start to this season, featuring five successive victories after an opening-day draw at Stamford Bridge, signifies that they are formidable contenders and fully prepared for another title pursuit.
While Klopp's Liverpool side may not have appeared as convincing as Manchester City so far this season, they have displayed an impressive ability to come from behind to secure victories. Liverpool currently lead the Premier League in points earned from losing positions this season, with 9 points, achieved through comebacks against Bournemouth, Newcastle, and Wolves.
What's noteworthy is that Liverpool's defensive vulnerabilities have yet to prove costly, allowing them to amass an excellent 16 points out of a possible 18. Such a return would usually be considered title-winning form in any other season, except for the era dominated by Pep Guardiola's Manchester City.
So, could this season witness a genuine title challenge from Liverpool, or perhaps something resembling a competitive title race?
This possibility hinges more on City's vulnerabilities than Liverpool's actions. However, the Reds' impressive attacking displays this season indicate they could indeed be contenders. Their attack, rather than their defense, has propelled them to their current lofty position and impressive points total.
Dubbed "Liverpool 2.0" by Klopp, this team boasts immense variety in their attacking approach. They can be fast and direct, but they can also slow down the game and employ intricate build-up play. Their adaptability sets them apart.
Nonetheless, Liverpool's defensive concerns have been evident, and the main question in their pursuit of glory this season will be whether their attack can consistently compensate for defensive lapses. Liverpool have kept one clean sheet in eight games across all competitions this season. So far, their ability to score goals and turn games in their favor has mitigated these defensive issues.
Liverpool's success have been aided by opponents' profligate finishing, but they also have the luxury of one of the world's best goalkeepers, Alisson, who continues to excel. He played a particularly crucial role in the victory over West Ham.
As the Reds look ahead to upcoming challenges, including a match against in-form Tottenham, they will need to prioritize protecting their goalkeeper. Alternatively, they could continue relying on their brilliant and multifaceted attack, which has been effective thus far. Liverpool appears to have the tools to stay competitive and keep pace with City for the foreseeable future.
Tottenham
Tottenham Hotspur have undoubtedly been one of the most captivating teams this season, delivering scintillating displays, with the memorable 2-2 draw away to Arsenal standing out.
Ange Postecoglou, the Australian coach who took the helm at Tottenham Hotspur, deserves ample praise for the promising start he has overseen. Last season was a challenging one for Spurs, as they experienced their lowest league finish in 14 years while their north London rivals, Arsenal, came close to winning the title. With Manchester City's dominance and the improvement of many other teams, Spurs' dream of ending their trophy drought dating back to 2008 appeared distant.
Spurs fans have endured a turbulent four years since Mauricio Pochettino's departure, but some much-needed stability seems to have arrived with Postecoglou after guiding Spurs to ten points out of a possible twelve so far this season.
Going two months unbeaten has been a pleasant surprise for a team that may have been undervalued, particularly after a tumultuous preseason that saw the departure of arguably their greatest-ever player. Spurs currently sit fourth in the table, instilling optimism not just among their fans but also in comparison to most other Premier League sides.
This new era at Spurs is incredibly exciting for their supporters, who can finally see a ray of hope. English football is highly competitive, and a manager with European experience limited to two years in the Scottish Premiership might not have been expected to excel. However, perhaps it's time to adjust expectations and recognize that a manager's value should be based on how they achieve success rather than just where they have achieved it. Postecoglou is an infectiously positive manager who might just have what it takes to challenge City's dominance this season.
Man Utd
Erik ten Hag arrived at Manchester United with a reputation for implementing a possession-based style of play. However, he encountered a few challenges upon his arrival. Firstly, the core of the team was not well-suited to playing possession football, and secondly, injuries to key players have plagued his squad.
Ten Hag's vision for United goes beyond just being a counter-attacking team; he aims to achieve mastery in both attacking and defensive phases of play. His ultimate goal is for United to become the best team at swiftly transitioning the ball from one end of the pitch to the opponent's goal while maintaining defensive discipline and resilience against various threats.
Once these aspects are refined and solidified, the Red Devils have the potential to become a formidable force in the Premier League this season.
Despite recent wins and clean sheets against Burnley and Crystal Palace, there is still considerable ground to cover in the Premier League if United intends to mount a serious challenge for a top-four position. United face Crystal Palace again in a matter of days at Old Trafford, with Ten Hag aiming for another victory to further improve their standings.
Tottenham, Liverpool, and Arsenal are on determined quests to disrupt Manchester City's established dominance in the Premier League this season. Spurs, under the inspiring Postecoglou, have rejuvenated their ambitions and displayed impressive early-season form. Liverpool, despite defensive frailties, has shown resilience and an attacking prowess that could pose a genuine threat.
Meanwhile, Arsenal, bolstered by strategic signings, aims to translate their unbeaten run into a title challenge. With each team driven by hope, ambition, and the desire to challenge the Cityzens, this season promises to be an exhilarating battle to unseat the reigning champions and bring fresh competition to the Premier League.