Arsenal tipped to start Aaron Ramsdale vs Tottenham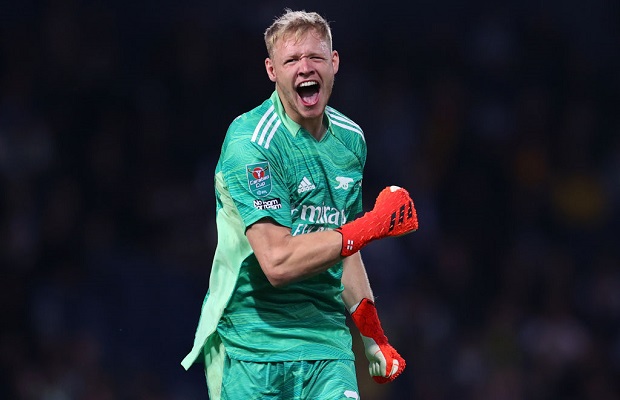 Ex-Gunner Ray Parlour has tipped Mikel Arteta to start Aaron Ramsdale against Tottenham Hotspur in Sunday's crucial North London Derby.
It was evident when Arsenal decided to purchase David Raya after letting Matt Turner leave the club that Arteta wasn't completely pleased with Ramsdale's last season's displays, though he was one of the Gunners' best players.
The Englishman – who joined the club in a £30m deal a couple of years ago – didn't fill himself with glory during the pre-season fixtures as he made a few mistakes. So, Arteta opted to sign Raya this summer to create competition for the goalkeeping position.
The Brentford star was one of the best goalkeepers in the Premier League last term so it was clear that Raya didn't move to the Emirates Stadium just to play as a second fiddle to Ramsdale.
Therefore, it was evident that a situation like this would emerge at some point this season when Raya will be used as the first-choice goalkeeper, dropping Ramsdale on the bench.
Goalkeeper dilemma
After starting the season with Ramsdale as the first-choice keeper, Arteta opted to make the big call against Everton last weekend, starting Raya instead of Ramsdale.
The Spaniard also got the nod in the previous game against PSV Eindhoven. So, it seems Arteta is now planning to use Raya as the first-choice goalkeeper, though the Gunners' boss has said that he isn't considering either Raya or Ramsdale as the first-choice option as they both will get chances this season.
Now, the questions have started to arise as to who will be in Arsenal's goal in this Sunday's crucial North London Derby. Having started Raya in the last couple of games, it is expected that Arteta will continue his compatriot.
However, speaking on talkSPORT (via HITC), Parlour has said that he would prefer to go with Ramsdale this weekend as the Englishman hasn't done anything wrong to be dropped.
But, the pundit states that Raya is a very good goalkeeper and he would not let Arsenal down if Arteta decides to start his compatriot.
Parlour said:
"I would go Ramsdale, but if Raya does come in again against Spurs, he won't let them down. I think he is an excellent goalkeeper, really good with his feet. He can ping a ball, good shot-stopper, so I have no problem with either goalkeeper in goal, but I would stick with Ramsdale because I don't think he has done a lot of wrong."
So, it is going to be interesting to see who will eventually get the nod to start in goal for Arsenal on Sunday afternoon.