Arsenal urged to sign a goal-scorer to take the next step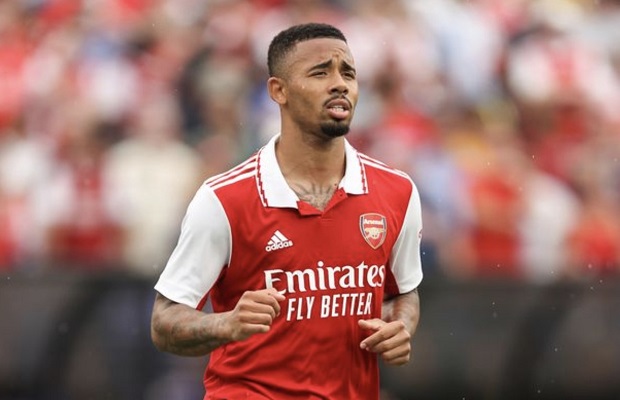 Ex-Gunner turned pundit Emmanuel Pettit has urged Arsenal to sign a goal-scorer like Erling Braut Haaland to challenge on all fronts.
The North London club opted to sign Gabriel Jesus last summer to bolster their frontline and he has turned out to be an instant success for Arsenal.
However, the Brazilian has struggled with injury problems so questions have started to emerge as to whether he would be able to help the Gunners achieve success going forward should he continues to suffer from injury issues.
Arsenal also have Eddie Nketiah at their disposal and he has showcased glimpses of his talent at times. But, he has struggled to perform at his best in big fixtures.
Speaking to Betway(via the Express), Pettit has claimed that although Arsenal have Jesus and Nketiah in the squad, they aren't 'typical goal-scorers'. So, the Gunners should sign a new prolific striker – who can score 30 goals a season to help the club take the next step and challenge on all fronts.
Attacking reinforcements
The pundit points out Manchester City's instant success in the Champions League after signing Haaland. So, he has stated that Mikel Arteta needs to do the same to help Arsenal win big prizes.
Pettit said:
"Arsenal already have two very good strikers in Nketiah and Jesus, but they are not typical goalscorers. If Arsenal want to go a step further, then they need a pure striker – someone who can get 30 goals in a season.

"Look at Guardiola. He thought he could win the Champions League without a No 9. He then changed his mind, signed a goalscorer, and won it by the end of that season. I think Arteta wants to emulate Pep's success at City, and I think he'll be influenced by him to sign an out-and-out scorer.

"The aim of football is to score goals and win. I like Jesus, but he needs a few chances to score. Arsenal are lacking a prolific scorer."
Arsenal indeed lack a prolific goal-scorer in their squad and signing a new world-class striker would certainly help the North London club achieve their lofty ambitions.
It has been suggested that Arteta has acknowledged that issue and has started planning to sign a new attacker in the upcoming transfer window. So, it is going to be interesting to see who Arsenal eventually opt to sign to reinforce their frontline over the coming months.