If Arsenal Win The League Could Mikel Arteta's Head Be Turned?
By
mac14
on February 19, 2023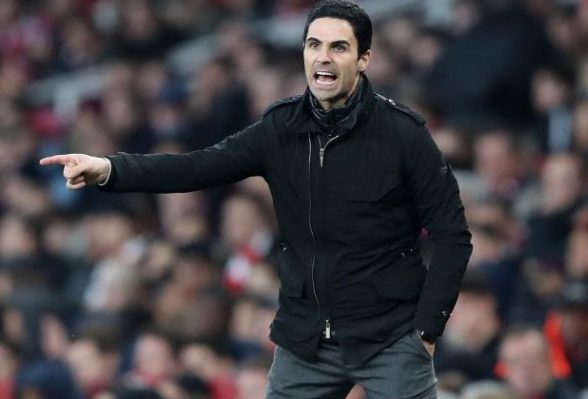 After a fantastic start to the current campaign by Arsenal under Mikel Arteta, rumours have started to hot up that the Spaniard could eventually leave the Emirates in the near future.
The Gunners had suffered just one Premier League defeat through 19 games and sat at the summit, leading rivals Manchester City by a distance. However, over the space of just three matches, Pep Guardiola has already overtaken his apprentice, setting up a nail-biting final third of the season.
Arteta has received countless praise for his development with Arsenal and if they are to go on and be crowned Premier League champions for the first time since 2004, it would settle the debate surrounding Arteta's managerial prowess.
Could City turn to Arteta if Pep eventually leaves the Etihad? Or could Mikel return to home and take the reins at Barcelona or Spain? Would Arteta even consider the possibility of leaving the Emirates at all?
Below, we analyse the different clubs that could potentially suit Arteta's style of play and management and whether the 40-year-old will leave Arsenal at all. You can find the latest spread betting odds on the English top flight here.
An Etihad Return
Man City is, of course, a natural option that could be viable for Arteta in the future. He served as assistant manager for two and a half seasons between 2016 and 2019 and with the latest developments surrounding Financial Fair Play at City, Pep could eventually leave the Etihad.
If Pep was to leave, it would likely be because the club had lied to him in regards to FFP regulations. Therefore, it may then be unlikely Arteta would join the club as a result, however, it certainly shouldn't be ruled out.
Although, considering how things have panned out for Arteta at Arsenal, it would come as quite the surprise if the Spaniard did eventually join one of their rivals. Guardiola has previously stated how Arsenal holds a place in Arteta's heart.
"I remember that when we were together here, when we score goals he jumps a lot – except one team. I jump, come back, he was sitting there. It was Arsenal. So in that moment I said, 'that guy likes Arsenal'.
The Arsenal spirit is truly embedded within Arteta and there would have to be a calamitous series of events for him to head to City anytime soon. Arteta also captained the Gunners towards the end of his career and his connection with the fans runs deep. He was the man who suggested that Arsenal use Louis Dunford's 'North London Forever' as the new walkout song at the Emirates.
Nevertheless, Guardiola is still expected to leave City at some point in his career and the Spaniard will likely be in search of a new challenge sooner rather than later, especially if he ends up winning the Champions League. Paris Saint-Germain offers a potential destination for his next challenge.
Heading for Home?
Arteta spent his youth career at Barcelona C and Barcelona B and so a return back to his homeland is also not out of the question. Despite failing to make a senior appearance for the club, Arteta featured 42 times for the B team between the years 1999 and 2002. It is also not uncommon for people to want to return back home throughout their career.
However, it would be very unlikely for that to happen any time soon. Despite Barcelona being impressed with the work that Arteta has done in England as a coach and manager, Xavi Hernandez is currently doing a fine job at leading the Catalan side.
Xavi has led Barcelona to the top of the table, sitting eight points ahead of rivals Real Madrid. The 43-year-old appears to be the next tactical genius to come from Spain and Barca have conceded just seven league goals across 21 league games, whilst scoring the second-highest number of goals in La Liga too.
It is thought that Barcelona are still monitoring Arteta and have identified him as a potential long-term replacement for Xavi.
Spanish National Team
With Guardiola and Xavi sitting comfortably in the City and Barca hot seats for the time being, perhaps the Spanish national team offers the biggest temptation for Arteta.
Not only would this offer Arteta a different avenue in coaching but it would also mean he wouldn't have to go up against his beloved Arsenal. Spain are yet to reach the dizzy heights they once reached with their golden generation when they won three consecutive major tournaments from 2008 to 2012.
The expectation is not to match the unprecedented levels of the late 2000s but the performances by the coaches since has been underwhelming. Spain have not reached further than the round of 16 at the World Cup since they were crowned champions in 2010, with their semi-final finish at Euro 2020 being their best at a major tournament.
Luis Enrique resigned after the 2022 World Cup after their last 16 exit against Morocco and new head coach Luis de la Fuente's contract only runs until Euro 2024, with an extension dependent on their success. If Spain underperforms in 2024, the door could easily be opened for Arteta to join the national team.
That also gives Arteta a season and a half to win the Premier League with Arsenal. If he is able to achieve that goal by the end of either this season or the 2023/24 campaign, it could signal the end to Arteta's time at the Emirates and the beginning of a new chapter.