Arsenal target Vlahovic wants to move away from Juventus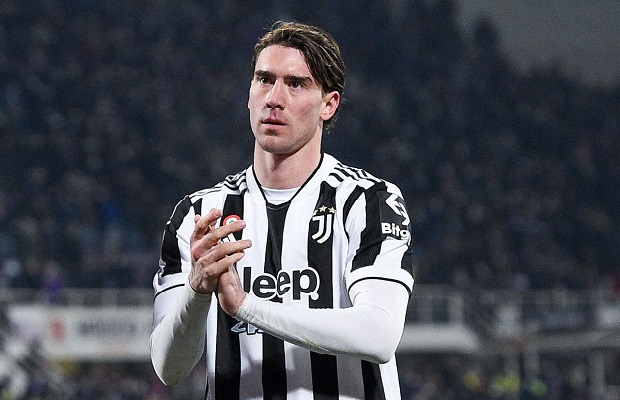 Arsenal target Dusan Vlahovic is reportedly keen on moving away from Juventus in the upcoming transfer window, as per the transfer journalist Ben Jacobs.
The 22-year-old joined the Bianconeri from Fiorentina for a fee of around £66m last January. Since moving to the Allianz Stadium, the forward has made 29 appearances in all competitions, scoring 15 goals and assisting three times.
The Gunners tried to purchase the highly-rated forward last winter before his switch to the Old Lady of Turin and it has been reported in recent times that the north London club are once again showing interest in signing the Serbian this January.
Following Gabriel Jesus' injury, Mikel Arteta's side are seemingly looking to make a move for a new striker next month and the Juventus man is reportedly one of the names on Arteta's wishlist.
Speaking to GiveMeSport, Ben Jacobs has claimed that after getting frustrated with the Bianconeri boss Massimiliano Allegri, Vlahovic is open to leaving Juventus in the upcoming transfer window amid recent interest from Arsenal.
The journalist further states that an investigation has been opened in recent times 'for alleged financial malpractice' against Juventus, so, the record Serie A champions are currently at possible risk of a sporting sanction. This situation could be another reason behind the Serbian's intention of moving away from the Allianz Stadium.
Dusan Vlahovic to Arsenal
Jacobs also says that Juventus won't prevent the youngster from leaving and they are ready to listen to offers for the talented forward.
Jacobs said:
"We know that Vlahovic has been on Arsenal's radar because they quite bullishly, in January, tried to sign him, and all it really did was catalyse Juventus' push to sign Vlahovic earlier.

"And now there's a feeling from sources that because of Juventus' uncertain situation, they're under investigation for alleged financial malpractice, who knows, sporting sanctions are not out of the question, but more importantly because the Italian system allows for all kinds of different appeals.

"So, more important than the actual sporting sanctions is actually just the fact that it's not thought that Vlahovich is particularly happy under Max Allegri. And because of that, I think that he is open to a move and Juventus are, at the same time, quite prepared to entertain offers and see what happens."
Dusan Vlahovic is widely regarded as one of the best young strikers in the world at the moment and purchasing a talent like him would be a great piece of business by Arsenal.
However, a previous report stated that Juventus want a fee of around £70m to sell their biggest asset next month. It will be highly unlikely that the north London club would be able to get this deal done this winter if the Bianconeri stay firm on their valuation.
So, it will be interesting to see whether Arsenal will be able to broker a deal for him next year. Signing the 22-year-old in January would certainly boost the Gunners' chance of winning the title this term.