Seaman surprised by Saliba's impact on Arsenal this season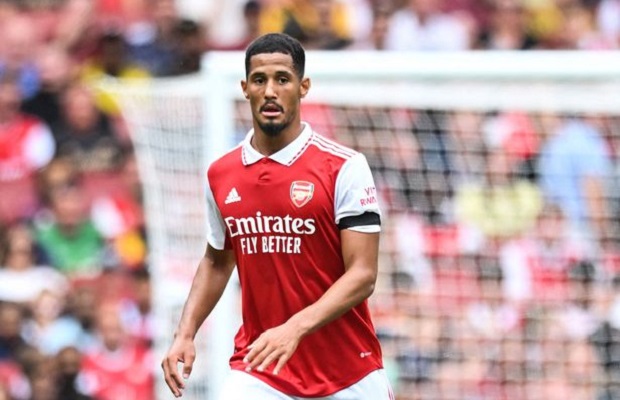 Arsenal legend David Seaman has been surprised by William Saliba's impact on his former club this season.
The 21-year-old joined the Gunners back in 2019 from French side Saint-Etienne for a fee of around £27m. The defender initially struggled to break into the north London club's first Xi and was sent out on loan before securing his place in Mikel Arteta's starting eleven this season.
Despite joining the club three seasons ago, the youngster made his competitive debut for Arsenal this campaign and has settled down in the Premier League like a duck to water. He has established himself as a key player in Arteta's system and become a fan favourite in no time. The Frenchman has made seven appearances so far in the Premier League this term, scoring twice and notching up a solitary assist.
During an interview with the Express, Seaman revealed that he has been amazed by Saliba's incredible displays for Arsenal this season. The former goalkeeper further says that several loan spells away from the Emirates Stadium have helped the youngster gain experience and develop his career.
David Seaman said:
"It's incredible what he's[Saliba] been doing. Saliba has really shocked me because it just shows you how going out on loan works. He's been out on loan for a few seasons, got really good experience and when you watch him now, you think he must be about 27 because he looks so confident.
Seaman thinks the trio still has a future at Arsenal
Meanwhile, Seaman also states that he believes Nicolas Pepe, Ainsley Maitland-Niles and Nuno Tavares – who are currently out on loan – still have a future at the Emirates Stadium if they can take full advantage of their respective loan stints as Saliba did.
Seaman said:
"Yes [they've got a future] because they should come back as better players because they're playing more. Now they've got a chance to play somewhere else. Just look at the Saliba situation and how it helped him."
The situations with Pepe and Maitland-Niles aren't similar to what it was with Saliba. The Ivorian and the Englishman had enough chances to impress Arteta, however, they failed to do that. So, it is highly unlikely that they will be given any more opportunities to prove their worth at Arsenal.
However, Tavares is still young and might find his future at the Emirates Stadium if he performs well in his loan stint at Olympique de Marseille.
Meanwhile, after taking full advantage of his loan spells, William Saliba has settled down extremely well at the heart of Arsenal's defence this season. He has showcased his talent in the Premier League and it can be hoped that he would become a world-class player in future and help the club in achieving silverware going forward.