Gabriel Jesus and Arsenal – a match made in heaven?
By
mac14
on September 1, 2022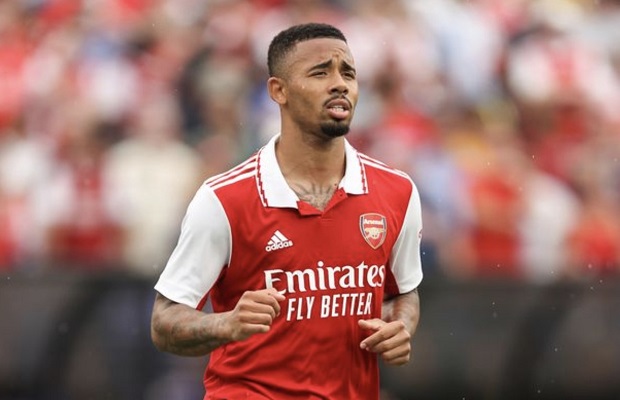 Arsenal continued to build on their positive start to this year's Premier League, taking all the points on offer against Leicester City, winning it 4-2.
And the focus of attention was all on Gabriel Jesus. The Gunners remember the disastrous start they had last season and were all out to make things right, and it felt like the old Arsenal were back.
An elegant finish from Gabriel Jesus saw the home side opening the scoring in the first half, and he continued his form to score his second. The Foxes fought back, but goals from Granit Xhaka and Gabriel Martinelli allowed Arsenal to end their second game on a high.
Here's how the team performed.
Manager Rating – 8
It was a good day for Mikel Arteta, who was the centre of attention in the English media after his disastrous start last season, but it looks like the Arsenal stalwart is getting a grip on the side. He finally completed his transfers well in time, which showed in the overall style of play that Arsenal displayed.
Arteta made his intentions quite clear against Leicester with an attacking setup that the Foxes struggled to cope with. The home side were on a spree to create chances, and eventually scored four well taken goals.
Key Player Ratings
Aaron Ramsdale – 6/10
Ramsdale wasn't having the best outing but quickly reacted to a Vardy shot. He conceded two and could've done better to not let Maddison's goal through his legs.
Oleksandr Zinchenko – 7/10
Zinchenko looked to stretch the play and took on the inverted wing-back role during selected times which caused Leicester plenty of problems and was a key outlet for Arsenal.
Gabriel – 7/10
Gabriel was solid at the back, with Leicester struggling to break Arsenal down on a regular basis. The Brazilian dealt with the threat of Vardy well.
Granit Xhaka – 7/10
A goal from Danny Ward's error saw the Swiss end up on the scoresheet, and Xhaka played very well in a box-to-box midfield role.
Gabriel Martinelli – 8/10
The 21-year-old had a stellar evening, constantly troubling his counterpart defender Wesley Fofana. He gave the Leicester defender all sorts of problems and Gabriel was a constant thorn in the visitors side. The youngster got himself on the scoresheet to cap off a fine display.
Gabriel Jesus – 10/10
A sensational second game in Arsenal colours saw Jesus scoring two goals. The first came in the first half as he looped the ball over Danny Ward, followed by a close-range header at the far post.
The Brazilian was unstoppable and contributed to all four goals, scoring a brace and assisting the other two.
The excitement surrounding Jesus has finally paid off, and everyone who purchased Arsenal tickets in match week 2 got their money's worth. If Jesus could continue this form, he could ideally be inspiring this Arsenal side to end up in the top 3 with ease.
Winning Mentality back
Jesus and Oleksandr Zinchenko were two signings that Mikel Arteta was chasing after for the summer window, and they have been the difference in both games so far this season.
Everyone present with Arsenal tickets at the Emirates saw the new levels of positivity coming out of the Arsenal side – something that has been missing for quite some time.
The Arsenal captain, Martin Odegaard, has praised the duo and believes they have what it takes to win trophies. He added that Gabi (Jesus) and Alex (Zinchenko) are players who are used to winning trophies for some of the best teams in the world, and they bring this experience to Arsenal. He complimented the duo's playing style and saw an immediate impact on the field and in the dressing room.
Arsenal are determined to make their Champions League return this season after they were gifted their spot due to lacklustre form in the closing stages of last season. They missed wins in the final few games, and Spurs claimed that 4th spot.
On the other hand, Odegaard will want to play a leading role in this pursuit of Champions League football and understands his leadership role in ensuring that the team chemistry is at a high level. The midfielder already captains his country, Norway, and was given the armband at Arsenal this summer following Alexandre Lacazette's departure.
It was a bold move from the management to have a 23-year-old lead the side, but it felt the right move after seeing his attitude on the field against Leicester. While everyone was celebrating Jesus's opener, Odegaard ran to the Arsenal dugout to get a 10-second dialogue on possible gameplan tactics with Arteta.
But, Odegaard will find it easier than his predecessors, Lacazette and Pierre-Emerick Aubameyang.
However, Arsenal is not looking at this year's season to be the ultimate game changer but to rise back to the top slowly. The first task will be the Champions League, and the rest can follow afterwards.
After years of disappointment, there's a glimpse of hope for everyone purchasing Arsenal tickets. The opening weeks are crucial to set the tone for the season, and this year, it feels like Arsenal have mastered it.
Emirates tickets are always highly in demand; this year, the demand for Arsenal tickets has quadrupled. Thanks to trusted reseller platforms, however, this demand is managed so that every fan gets a chance at securing an Arsenal ticket before they run out.
With all of these tickets coming from trusted resellers, it allows every fan to easily get their hands on Arsenal tickets.