Does David Luiz Leaving Pave Way For William Saliba To Secure Spot In Arsenal's Defence?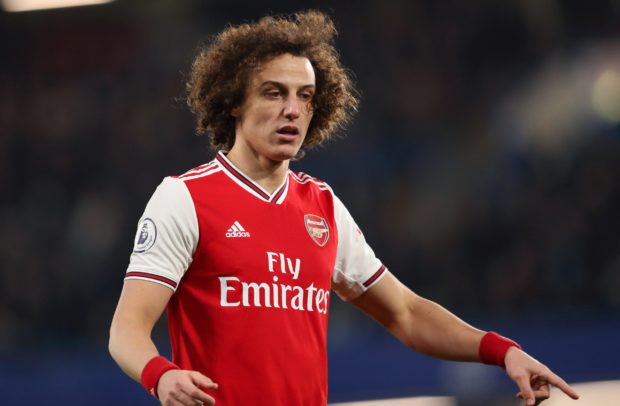 David Luiz will leave Arsenal when his contract expires this summer with the departure coming after months of talks behind the scenes about his future. A hamstring injury means he has almost certainly played his last game for the Gunners.
The Brazilian defender's career both at the Emirates and in general has been a rollercoaster ride of highs and lows. Luiz has an FA Cup winner's medal from his time in North London but three straight red cards in just a couple of seasons here.
Arsenal also recorded their lowest league finish since before the Arsene Wenger era down in eighth place in the last Premier League campaign. Piling blame on Luiz individually when his spell coincided with a long-term decline is harsh, but it's now time for others to marshal the Gunners defence.
Mikel Arteta has said he made a mistake when omitting talented youngster William Saliba from the club's Premier League squad this season. He has instead gone out to Nice in his native France for the second half of the term with a top 10 finish in Ligue 1 already assured.
Luiz leaving may create the opening and opportunity that Saliba sought since signing with Arsenal over the summer of 2019. He hasn't played a competitive first-team game for the Gunners yet, but the 6ft 4in defender was among the substitutes for the Community Shield penalty shootout win at Wembley over Liverpool last August.
Going into the run-in, goalie Bernd Leno had only kept 10 Premier League clean sheets with former teammate Emiliano Martinez, sold by Arsenal to Aston Villa ahead of this season, outshining him in that department. Defending has clearly been an issue for the Gunners, who have only shut out opposition in around 30% of domestic league games.
Saliba hasn't exactly found the Nice rearguard watertight either, with the French Riviera outfit keeping just four clean sheets since he came in on loan. It's worth noting, however, that he started three of those games. He joined Arsenal as a long-term investment but may need to start making a return on that next season.
Arteta used Switzerland holding midfielder Granit Xhaka at left-back on occasion, and the Gunners got away with it against rock bottom Sheffield United and 10-man Newcastle. It's not ideal tactically, and Kieran Tierney should improve things in this department if he stays fit next year.
Luiz's Emirates exit frees up space in central defence. Continuing to use players out of position will impact predictions for the new season, and MBet's latest articles for Arsenal FC suggest they have plenty to do if the club is to re-establish itself as a top-four team.
Pressing Saliba into service where his height is an asset after gaining valuable experience in a European league could well be part of the answer moving forward. Arteta also has Gabriel, Rob Holding and Pablo Mari, who has struggled with injuries this season, as options for the heart of defence. The Gunners may be losing Luiz but could be gaining a player in Saliba with huge potential.