The story of Dennis Bergkamp, the non-flying Dutchman who became a legend at Arsenal
By
mac14
on July 25, 2020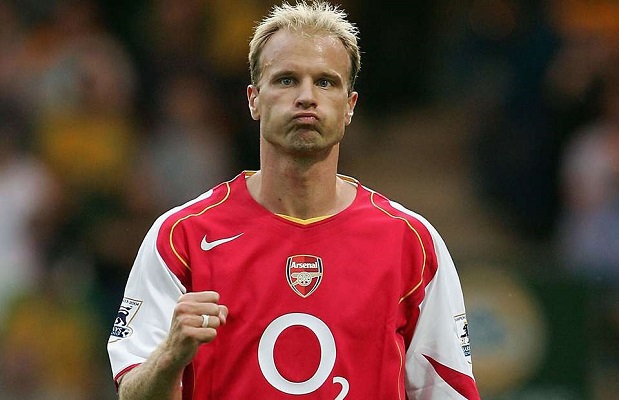 Dennis Bergkamp is considered to be one of the greatest players of his generation and undoubtedly one of the best in Arsenal's history. Even after his retirement fans of the club adore him. Bergkamp enjoyed huge success during his time in North London and in this article, we'll talk about a few facts from the life and career of Dennis Bergkamp, who is also known as the "Non-Flying Dutchman" due to his fear of flying.
Football name
Bergkamp was destined to become a footballer. In his family, the whole male generation (father and older brothers) were huge football fans. Fortunately, just as was growing up, the Dutch clubs (first Feyenoord, then Ajax) dominated Europe. For four years  (1970-1973) they shared the European Cup. The Dutch national were also an excellent side with Johan Cruyff leading the way. Actually, Dennis was named after a footballer. Because of this, even confrontation occurred inside the family. Bergkamp Sr. was a fan of Manchester United and wished to name his son after the star of the English club, the winner of the Ballon d'Or 1964, Denis Law. But his mother was categorically against it:
"Do you want to ruin the child's life by calling the boy a woman's name?!"
Indeed, the male name Dennis in Dutch sounds exactly the same as the female Denise. A compromise was found: for "masculinity" they added another "n". It turned out to be Dennis.
And the rest is history and what Bergkamp achieved during his 11-year tenure in Arsenal, is unachievable for many football players. He was dominating his opponents and was the creator of the team's attacking play. There were no limits for him and what even catches our attention is the fact that he was always loved in New Zealand, a country which we know more in rugby than in Football. But surprisingly there is a supporters' club in the country and has official status. Even now the fanbase is very active and if you take a look at New Zealand casino bonuses which online casino companies offer, you will be amazed to see that the popularity of Arsenal is increasing – a large amount of people are following Arsenal and Bergkamp is still one of the loveable figures.
The Non-Flying Dutchman
Dennis Bergkamp entered the history of football under this nickname. It's all about his fear of flying. In his younger years, he experienced a personal tragedy when he learned that several of his friends of the Amsterdam football academy had died in a plane crash. All of them were Surinamese players and flew to their historic homeland to play a friendly match.
Dennis was devastated about what happened, refusing to fly. Not that he gave up flying at all. When the Netherlands team had to cross the ocean to qualify for the 1994 World Cup in the United States, Bergkamp was sedated and seated in a chair. But, if there was an opportunity to avoid flying, Bergkamp always used it. In Europe, he travelled by car and completely ignored long-distance voyages. Alas, because of this Bergkamp never visited various countries. In 1998 and 2003, Arsenal were without the Dutchman as they were beaten in Kyiv by Dynamo in the group stages of the Europa League. In 2001, the Gunners were defeated in Donetsk by Shakhtar – 0:3. And if the match in Donetsk was not particularly important (Arsenal came out of the group early and brought the second team to Ukraine), the matches in Kyiv were very important in terms of result for Londoners. So Bergkamp's loss was huge.
Contrary to the laws of gravity
But he knew how to fly on the field! And control the ball like no other! At the Emirates Stadium in London, a monument to the Arsenal star is erected, in which he is depicted in the blink of one of the highlights of his career. Arguably his most memorable moment in an Arsenal shirt came against Newcastle when he scored one of the best goals of all time. His exquisite first touch with his back to goal, going round the defender in the opposite direction before cooly slotting home will always be remembered among Arsenal fans.
"I've been in football for so long that I always know exactly where and how the ball will turn out after a second or two. It makes my life a lot easier" – that's what Dennis Bergkamp himself said about his talent.
What Bergkamp was able to do with the ball sometimes failed to be understood. You can check various compilations featuring him doing magic with a ball.
Undeservedly offended
Three Premier League titles, four FA Cup titles, the Dutch league title, one European Cup (with Ajax), and two UEFA Cups (with Ajax and Italy's Inter Milan). A huge amount of titles Bergkamp collected during his career. He didn't win anything with the Dutch national team, and the Ballon d'Or was never awarded because he was always overshadowed by someone better at the time.
But that won't diminish what was a superb career and Bergkamp will always be remembered as one of the all-time best who earned the love of Arsenal supporters. His partnership with Thierry Henry was one of the best ever and it was the perfect synergy playing under Arsene Wenger.
Dennis Bergkamp is now working with Ajax but has been talking up the possibility of coaching at Arsenal, so who knows, maybe we'll see the non-flying Dutchman at the Emirates soon.