Alexandre Lacazette – an Arsenal star or time to sell?
By
mac14
on July 25, 2020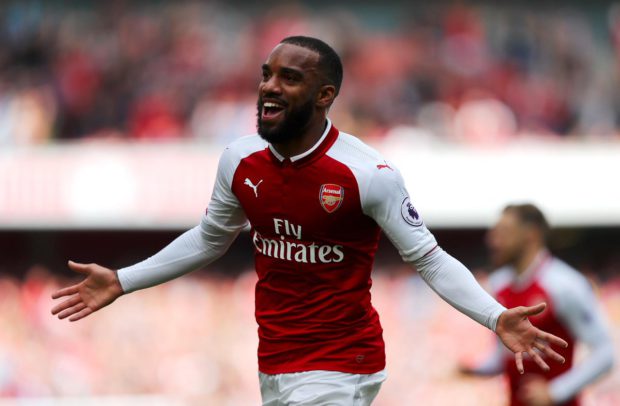 When Arsenal signed Alexandre Lacazette in 2017 from Lyon, supporters anticipated a lot from the French player. He was outstanding at Lyon, scoring 129 goals and providing a further 43 assists in his 275 appearances to earn a reputation as one of the finest strikers in France.
However, it's almost 3 years since Lacazette joined Arsenal and we have not fully seen his potential. This season has been a real struggle for the 29-year-old and Eddie Nketiah has been selected ahead of him a number of times in recent months with Mikel Arteta seemingly not convinced Lacazette is the man to lead the line for Arsenal.
What will the future hold for the Frenchman? Will he be able to return to his previous form? Or is he set for a move this summer?
Last season, Alexandre Lacazette enjoyed an excellent campaign and became the best player for Arsenal. In the fans' vote, the Frenchman scored an impressive 35%, beating even Pierre-Emerick Aubameyang, who scored 31 goals, to be named as the Player of the Year.
This choice puzzled people outside the club, but Arsenal fans appreciated what Lacazette had brought to the team that year. He scored 19 goals and made 11 assists that season, and his work-rate was superb. We should not forget the goals he scored against Tottenham, Liverpool, and Chelsea, while he also scored important goals against Napoli and Valencia in the Europa League. When Lacazette was good, Arsenal were good.
"He is irreplaceable," Said Bacary Sagna. – "Such a player is given to the team by the whole. Everyone sees those whose name is on the scoreboard – like Aubameyang – but the amount of Lacazette's work cannot be underestimated."
Two years after the Lyon striker arrived, it looked as if he had fully adapted to English football. People expected him to kick-on this season.
Lacazette's impressive form at the beginning of his Arsenal career was welcomed not only to local Arsenal supporters but also the ones in Canada – who has a large community of Arsenal fans. The main reason for this is due to the number of world class French players who have become legends in north London, for example Thierry Henry and Patrick Vieira. Even though those players are French, football fans in Canada were drawn to Arsenal during that period due to the close ties between the two countries as many people in Canada speak French.  This led to a surge in interest being shown to Arsenal from casinos and betting companies. Quebec which is the "most French" part of Canada is considered to be a heart and centre of gambling in the country. Betting companies based in Quebec have been offering Canadian casino bonus opportunities for several years with many focused on Arsenal, and Lacazette in particular in recent years. Many fans took advantage of these offers while Arsenal and Lacazette were performing well but the interest has been slowly fading this season due to the club and players' difficult campaign.
The 2019/20 season has been a testing one for Lacazette and with Arsenal in financial difficulties, it's led to some fans believing it's time to cash-in on the striker this summer.
Is Alexandre Lacazette an Arsenal star or the past?
What could have happened in a year to turn a footballer from a star of the team into a bench player? The answer, unfortunately, is simple – injury.
In pre-season, Lacazette faced former club Lyon in the Emirates Cup but picked up an ankle injury. At first it seems to be a minor issue as he was named on the bench for the opening match against Newcastle. However, the injury turned out to be worse than first thought and Lacazette was ruled out for six weeks. When he returned, the striker looked badly out of shape as Arsenal lost to Sheffield United.
Lacazette has scored just 10 Premier League goals this season which is a poor return for a player of his calibre. Between November and December, Lacazette scored four goals in four games before playing nine games without a goal, and only on February 16, he scored against Newcastle. After the game, the Frenchman admitted that it was very difficult for him to return.
"It is always difficult for a striker not to score, but it happens. I hope it doesn't happen again."
But despite all this, Lacazette is a super-popular figure at Arsenal and his team mates celebrated emphatically with him after he broke his drought against Newcastle. It looked like his season would kick-on after he scored during consecutive games against Olympiakos and West Ham. However, the Frenchman struggled to hit top form following the restart in June and he eventually lost his first team place to Nketiah.
"I have two forwards now, and that complicates my job, although the situation itself is good," Mikel Arteta admitted. "I decided to put Eddie on the match, but I was counting on Lacazette if we had to storm the opponent's goal in the last minutes."
Lacazette has also drawn criticism from some sections of the fan-base after being fined two weeks wages for hosting a party during lockdown. This summer, many clubs will experience financial difficulties, and Arsenal will be no different. It is possible that Lacazette, whom Diego Simeone has been looking at for a long time, will help the Gunners acquire Thomas Partey in a player exchange.
Arsenal are desperate to tie Aubameyang down to a new deal and could offload Lacazette to help balance the books. If he does leave, it will be a disappointing end to what could have been an excellent career in London.